PUNJABI ANTENNA
On the drug trail
by Randeep Wadehra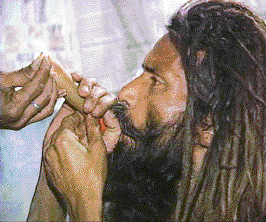 Parat Dar Parat focussed on the drug trade in Kulu-Manali

EYE CATCHER

Amar Dixit wears several caps as a performing artiste, viz., singer, actor and lyricist. He's been doing theatre for the past two decades now. Some of the popular plays done by him are Inna Di Awaz, Chaur Charnan, BA Pass, etc. He's acted in a number of Punjabi movies such as Naseebo and Mamla Garbar Hai, and video films like Dil Di Dukaan, Wanted Gurdas Mann and Bhangra Pao Mundio. His latest is Tere Naal Naal Dil Rahinde Nee, which has the hit number Chandigarh Di Naar. Though he's not done many serials, he was seen in Zee TV's super hit comedy Hum Paanch off and on. However, he's at present concentrating on making music his career.
News bulletins often fail to provide complete picture of an event as they have to meet deadlines and beat competition. So, the instant news analysis often degenerates into an inane conversation between those manning the newsroom and the reporters covering an event.
Since Punjabi news channels rarely have experts to elucidate upon the reporters' inputs, viewers often fail to get the complete picture. Moreover, certain issues do not get due coverage. Programmes that give in-depth analyses of various significant happenings are indispensable. To an extent, Khariyan Khariyan, on Lashkara channel, and Khabarsaar and Parat Dar Parat (PDP), both on Alpha Punjabi, do supplement news bulletins with analytical discussions, and frequently cover those events that are ignored in the hurly-burly of instant reporting.
If you thought India was a mere transit for the heroin and other narcotics manufactured in Afghanistan and Pakistan, think again. On the one hand, the Golden Crescent's 'bumper production' of these drugs this year is giving sleepless nights to the Indian security forces manning the borders, on the other, PDP reveals that our law enforcing agencies are fighting a battle of attrition against domestic drug syndicates.
It focused on the shady doings of drugs mafiosi last fortnight. Kulu-Manali is known for its rugged and pristine beauty, its temples and natural wealth, but how many of us know that it's also considered the 'Valley of Charas'? Hybrid seeds are developed in Holland and Russia, smuggled into the valley, especially to the isolated hamlet called Malana, for growing charas plants.
It was a multi-million dollar enterprise run by two brothers from Australia, who were nabbed by the police. PDP revealed that there're other western criminals too, who marry local girls to escape suspicion. Charas, or hash, is exported to Spain via Goa and other parts of the peninsular India for onward transit to several western countries.
The PDP team covered the police action that identified and destroyed charas crops spread over 2400 bighas and arrested some culprits, although the big fish escaped as usual.