short takes
The doc who was given up for dead
by Randeep Wadehra
A Hero of American Hearts by Gurmukh Singh. Rupa. Pages 83. Price not mentioned.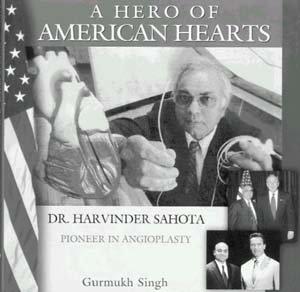 THIS is the story of a heart specialist who would have been a Bollywood actor had his friend not ditched him at the last moment. Dr. Harvinder Sahota, better known as father of the perfusion balloon and a pioneer in angioplasty, is decidedly a child of destiny. When he was born he was given up for dead. Just as his body was being prepared for the last rites someone noticed a movement in his face, and he was revived with a doctor's help. Harvinder's father vowed to make him a doctor — a dream that would have remained unrealised had not destiny intervened.
This book, a coffee-table-edition, narrates Dr. Sahota's success abroad and in India. The anecdotes and his impressions of people in the U.K, the USA etc make this volume unputdownable. Gurmukh Singh, a former special correspondent with Times of India, needs to be congratulated for impeccable syntax and an immensely readable biography.
Only Dreams
by Gurnam Gill edited and translated by Gurdial Singh Arif. Unistar, Chandigarh. Pages 195. Rs 295.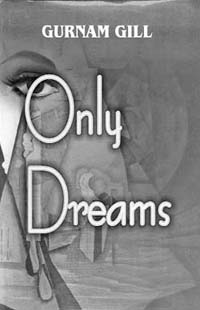 This collection of short stories, translated from Punjabi, deals with assorted emotions and situations. For example, Two Yards Space is about the remorse of a man who had ill-treated his wife all his life. All alone after her death, and ignored by his progeny, the guilt-ridden protagonist recalls the virtues of his spouse. However, the ending's a bit confusing as, suddenly, he's shown torn between his desire to be cremated in his native village and the charms of his adopted country, viz., England. Similarly, in Across the Breakwater the male protagonist is filled with remorse long after having married a much younger woman, who is his deceased wife's sister. He knew of her love for someone else, yet he forced her to marry him. He expatiates on his deed in an off-putting manner. Another story, Right or Wrong, is about a person coming to terms with his loneliness.
Perhaps these stories are much more readable in Punjabi. In translation the narratives have lost a bit of their lucidity. Phrases like "I am a face to face`85", "`85repent of his action" "The portrait of the (sic) Parkasho`85" "mantalpiece" "arriving at the village, I did feel exhorted" etc will give you an idea that editing and translation are specialised jobs that shouldn't be taken lightly. Nonetheless, a good read.
Water: problem and its management
by Satish Yadav (ed). Hope India, Gurgaon. Pages 136. Rs 275.
Forty per cent of the world populace faces chronic shortage of fresh water for daily needs. Half the world's wetlands have been lost and one fifth of the 10,000 freshwater species is extinct. Water is getting scarcer by the hour. Contaminated water kills around 2.2 million people every year. Concerned intellectuals and politicians have already started talking of water-wars. In order to draw global attention to the looming menace the UNO declared 2003 as the International Year of Freshwater.
This volume is a collection of learned essays written by such well-known environmentalists and thinkers as Vandana Shiva, Shankkar Aiyer, Rajesh Joshi and V.R. Krishna Iyer. A must buy for all those who feel concerned about the health of our environment.