With love from Japan
Madhu Jain is perhaps the only artist in India to practice the Japanese Nihonga form of painting. Vibha Sharma reports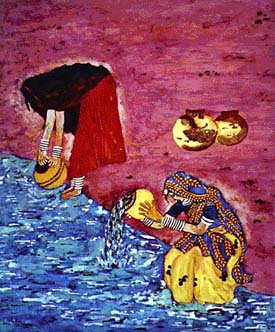 Practice of using rock pigments for paintings had originated in India.
MADHU Jain says she is the only artist in the country who is creating Indian imagery using Nihonga, a Japanese style of painting. "If there are any more Nihonga artists like me in India, I would love to meet them," says the artist. She has been practising this form for 10 years.
It was the eco-friendly nature of the medium used in this unique art form that attracted Madhu to it. Earlier, she used to paint with synthetic medium of oils, acrylics, etc, which involved the use of turpentine oil, linseed oil and pigments made of chemicles. "Not only did they emit a strong odour, they also hurt my eyes if the studio had not been properly aired."
It was when she went to Japan with her husband, who was posted there, that she discovered the wonderful world of eco-friendly colours of rock and mineral pigments. The pigments, derived from natural minerals, shells, corals, semi-precious stones, gold and silver, are applied with a brush with glue and water substrate on a handmade paper, called washi.
The gold and silver pigments, says Madhu, are either in the powder form or thin leaf or flakes, which are applied on the paper and pigments layered over them. Semi-precious stones are also used in the powder form and emit a shine when light is focussed on the painting.
The gold leaf made in Japan is said to be the thinnest in the world at just about 1/10,000 mm in thickness. Rocks are crushed into very fine, sand-grain textures, and present different hues to the colours. Even the paper, washi, is a handmade paper made from flax fibre. Even resin, or Nikawa as it is called, is a special tree resin, that needs to be made fresh, every three days. Brushes too are made of special hair and can hold lot of water.
A receipient of the Indira Gandhi Priyadarshini Award, 1999, for her contribution and achievements in the field, she studied the Japanese language for seven years for guidance by senior Japanese artists at the Aoyama Bunka Centre, Tokyo. "I was told in Japan that the art of using rock pigments for paintings had originated in India, centuries ago. Which is quite possible since mineral pigments and vegetable dyes were used for paintings in Ellora, Ajanta and miniature paintings. There is a temple near Kyoto in Japan, Horyuji temple of Nara, that has wall frescos similar to those in Ajanta and Ellora caves that are said to be made around the same period."