Ex-servicemen kin gherao Amarinder
CM promises sops to soldiers
Neeraj Bagga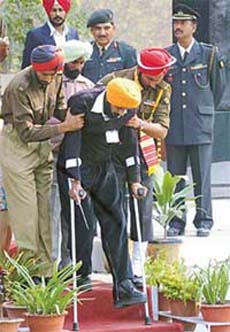 Army personnel help a disabled ex-serviceman after he received a grant from the Chief Minister during the ex-servicemen rally at Amritsar on Monday. — Photo by Deepak Bhardwaj
Amritsar, November 22
A major embarrassment was caused when a large number of family members of ex-servicemen gheraoed the Chief Minister, Capt Amarinder Singh, as soon as he came out of the pandal to leave Panther Stadium, venue of the state-level ex-servicemen rally here today.
They showered the CM with a barrage of questions on the delay in fulfilling promises made by the government to implement various welfare schemes.
Taken by surprise, the CM's securitymen immediately cleared the way. However, before leaving the venue, Capt Amarinder Singh assured them that he would look into their problems, provided they sent their grievances in writing.
Meanwhile, at the rally organised by the Panther Division under the aegis of Headquarters Vajra Corps, the CM announced jobs to families of martyrs who were awarded Param Vir Chakra (PVC), Ashok Chakra (AC), Maha Vir Chakra (MVC), Kirti Chakra (KC), Vir Chakra (VC) and Shaurya Chakra (SC).
In addition to a one-time grant, they would also be given handsome pensions.
Capt Amarinder Singh said he would take up the issue of 'one rank, one pension' with the Defence Minister. It was a genuine demand of soldiers, which had been ignored for long, he said.
The Chief Minister said the annual budget of the Department of Defence Welfare had been enhanced to Rs. 31 crore from the last year's Plan outlay of Rs 26 crore.
He gave away cheques to 41 kin of gallantry award recepients to the tune of Rs 37.85 lakh and a special grant to 37 from the Small Savings Fund to the tune of Rs 22.40 lakh. Tricycles were given to deserving beneficiaries.
He also announced the exemption of interest levied on loans taken by ex-service men under the self-employment scheme. He also presented appointment letters for recruitment to government jobs to two next of kin of gallantary awardees.
Lt-Gen J.J. Singh, GOC Western Command, addressing the gathering, said the motive of the rally was to establish close interaction with the ex-servicemen of Punjab, to ascertain their problems and to provide guidance on resettlement schemes of the government and various re-employment opportunities available.
He said an Army nursing college would shortly be opened at Jalandhar.
On the occasion, a medical camp was held where doctors examined former soldiers and their families.
Besides, a pension counter was set up. As part of the rally, a number of stalls were set up by various banks and the Departments of Agriculture, Poultry, Fishery, Horticulture, Floriculture, Animal Husbandry and Bee-Keeping for enterprenural information.
The valedictory address was delivered by Lt-Gen P.K. Singh, GoC, Vajra Corps. Prominent among those who spoke were Ms Geetika Kalha, Principal Secretary, Department of Defence Welfare, Brig (Retd.) J.S. Jaswal, Maj-Gen (Retd) K.N.K.S. Warich, Maj-Gen (Retd) and Mr G. S. Randhawa.