Mukesh, Anil camps harden positions
Shiv Kumar
Tribune News Service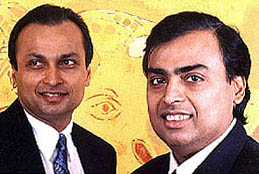 A file photo of Ambani brothers Mukesh (right) and Anil taken at a recent function in Mumbai. ó PTI photo
Mumbai, November 26
Mukesh Ambani, Group Chairman of Reliance Industries Ltd, is not exploring legal options to solve ownership issues with his younger brother Anil Ambani, a spokesperson of the group told a private television channel here. The channel was told that the board of Reliance Industries Ltd was fully behind Mukesh Ambani and has vested all authority in him.
The battle between Mukesh Ambani and Reliance Industries Vice-Chairman Anil Ambani worsened here with the proceedings of the company's board meeting being leaked to newspapers here.
The leak said to have originated from the Anil Ambani camp indicated that the younger son of Reliance founder Dhirubhai Ambani had challenged the minutes of the Reliance Board meeting held on July 27 this year. The minutes reportedly indicated that the board had vested all authority to run the companies in Mukesh Ambani.
This was challenged by Anil Ambani who in a dissent note questioned the procedures adopted in conducting the board meeting.
However, RIL in its statement said that the board did not find any merit in Anil Ambani's dissent note.
Anil Ambani is said to have questioned the agenda of the board meeting where a supplementary item seeking to redefine the powers of the CMD, Vice-Chairman and MD, and other executive directors was introduced.
The board is said to have given enough powers to the group Chairman Mukesh Ambani to enable him to function as CEO of the company with everyone, including Anil Ambani, reporting to him.
In his letter of protest, the younger Ambani said this item was introduced without prior notice and was approved by the board without any proper discussion or debate.
Anil Ambani hasnít yet indicated as to his next course of action regarding this. He, however, told journalists on Thursday that he would speak on the matter at the appropriate time.
Meanwhile, the Securities and Exchange Board of India (Sebi) here has indicated that it would take up the issue of corporate governance and disclosure practices of RIL with the Bombay Stock Exchange and National Stock Exchange.
This would be done with the aim of ensuring that ordinary investors are not affected in the middle of the battle between the two Ambani brothers.