AUDIOSCAN
Mixed fare
Hatya (Venus)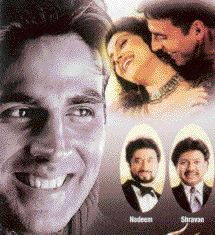 WHEN Nadeem-Shravan are in their element, they can be as good as any composer on the scene. But when they are not, they can be as flat as the beer bottle opened yesterday. Unfortunately, this album falls in the second category.
The album does hold some promise through the opener Yun hafte hafte milna (Alka Yagnik, Kumar Sanu) but that is more because of the rather unusual lyrics penned by Aftab. But the assurance does not hold good in later numbers. Khabar chhap jayegi yeh kal ke akhbar mein (Alka Yagnik, Kumar Sanu again) does not distinguish itself in any department.
Ahmed Mirza goes overboard pretending to be intoxicated in Aankhon hi ankhon mein in the company of Sarika Kapoor. But he gives better account of himself as a singer in Koyaliya bole kuhu kuhu along with Kavita Krishnamurthy.
Shaadi Karke Phas Gaya Yaar (Tips)
In the credit line the names of Sajid-Wajid are given as composers. Actually, two others have also composed some of the songs. They are Daboo I. Malik (three songs) and P. Sameer (one). That leaves only three songs for Sajid-Wajid. No wonder, the pattern is different in different songs.
Almost all the lyrics are by newcomers like Shabbir Ahmed, Jalees Sherwani, Rashid Lucknowi, Salim Bijnori and Manohar Iyer. But they have done a fairly competent job.
While the title song, Shaadi kar ke phas gaya yaar is among the chalu presentations, in both its versions, one by Sunidhi Chauhan and Sonu Nigam and the other by Abhijeet, there are some worthwhile songs too like Kuchh bhi nahin tha kuchh bhi na hoga (Alka Yagnik, Hariharan) and Taron ko mohabbat ambar se (Alka Yagnik, Udit Narayan).
Channa Vey (Universal)
This cassette features Kunal Ganjawala and others. It is a m`E9lange of Hindi, Punjabi and instrumental songs. If the title song (in both versions) is in Punjabi, then we also have Sadhana Sargam singing Kab tak intezar in Hindi.
Side A features chirpy numbers like Bikhri hui by Arnab Chakraborty and Judaaiyan by Sonu Kakkar. Side B has more sober songs like Hai pagal kyun by Nihira Joshi and an instrumental composition by Prasad Sashte. — ASC
This feature was published on November 20, 2004