FASHION
Sabyasachi's haute affair
From selling junk jewellery to being the only Indian fashion designer to have been invited for the coveted Milan Fashion Week this year, Sabyasachi Mukherjee has come a long way. Avijit Chatterjee meets the couturier before he leaves for Italy next week.
HE is a picture of concentration as he sits hunched over his study in his cluttered studio in a posh apartment in Kolkata. The very next moment, he is up and about, pacing the room feverishly, cell phone glued to his ears, barking instructions to his assistants to get that shape or the cut right. "I think I will go mad," he says, throwing up his hands in despair.
Sabyasachi Mukherjee has just a few days left to go to the Milan Fashion Week, which kicks off on September 25. Prior to that, he has to visit the Italian fashion capital for a press conference. "How am I going to manage everything?" wonders the 28-year-old designer, who is one of the two Asian designers invited to Milan. The other is Nagara of Thailand.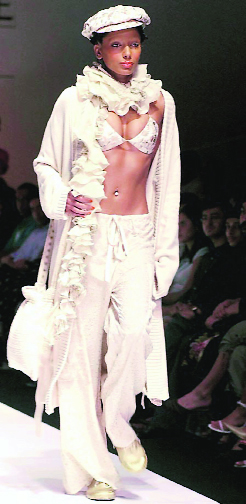 A model displays a creation of the designer

"I got a prize from the Fashion Design Council of India to go to the New York Fashion Week as a delegate by virtue of bagging the best designer award at the Indian Fashion Week this year. But there was no opportunity to display my ensemble there," says the designer, who took the fashion world by storm with his debut collection at the Lakme India Fashion Week 2002. Sabyasachi's 'Frog Princess' at the India Fashion Week 2004 was a showstopper with its clean cuts and retro look but most for its unusual presentation, where models were shown walking aimlessly down the ramp, eating bread and chocolates to the sound of vintage violin music.
"My Milan collection will have the same sensibility as the Frog Princess but it will be almost European with an Indian soul. There will be a lot of distressed fabrics, tea stains, gussets and layering," he says. Never ashamed of his roots, the designer says he will be carrying a part of Bengal with him to Milan. "I will be using a lot of kantha stitches and quilting with vegetable colour. Also for the hair, I will be using narrow tangail borders as selvages to be braided into the hair."
Sabyasachi is also among the first designers from India to be invited to the 'Passage to India' between October 1 and 8 at Parasaya Grande, the most glittering address in Jakarta. Though he will not be attending the Indonesian gala, Sabyasachi will be sending a vintage collection with some Indo-western influence. "It is mainly targeted for the Divali buyers there," he says.
After graduating in 1999 from the National Institute of Fashion Technology, Kolkata, with three major awards — the Best Designer Award, the Ritu Kumar Award for excellence in design and the Viewers Choice Award — Sabyasachi went to London for internship with Georgina Etzdorf, an eclectic designer based in Salisbury. After this he started supplying to Tony boutiques in India under his eponymous label. In 2002, Sabyasachi participated at the Lakme India Fashion Week and the rest as they say is history. Sabyasachi's design philosophy is simple and clear — personalised imperfection of the human mind. Deserts, gypsies, prostitutes and antique textiles have been a lifelong inspiration for him. "I am a very instinctive designer. I design what I see," says the affable couturier, known as Pepsi to his friends, whose clothes, once associated with loud hues, have now given way to a more relaxed and ethereal look with a lot of pristine white and beige thrown in as well.
"Slowly as I am getting older, I am maturing in terms of fashion ideas. My clothes have become more subtle. They are not attention-grabbing any more. They are more beautiful, soft and easily blend in with the surroundings." His ensemble at the recent Kula Lampur Fashion Week displayed a "global Indian silhouette" look with lots of muslin and gauze, which explains his fascination for the 'Frog Princess'.
Sabyasachi's designs have been lapped up by Bollywood as well. Sanjay Leela Bhansali recently commissioned him to do the costumes for his film Black, which has stars like Amitabh Bachchan and Rani Mukherjee. "It's a very '50s and '60s-inspired movie, a period film, so to speak," explains an obviously enthusiastic Sabyasachi, but declines to reveal anything further, saying he is contract bound.
Sabyasachi's collection at the Lakme India Fashion Week has earned him a contract from the Browns in the UK, for whom he will be supplying clothes from January. Currently, his clothes are available at Carma and Ogaan, New Delhi, Melange and Ensemble, Mumbai, Espee and Intrigue, Kolkata and Origins and Oorga in Hyderabad.
After earning laurels for his couture, Sabyasachi, who considers himself lucky to have realised his dream so early in his life, says he wants to go to back to designing jewellery, which gave him a lot of pocket money. "Between college and NIFT, I started a small junk jewellery business for earning some pocket money. I used to string beads together with pieces of wood, ceramics, tiles, shells and printed tiles and carry it to the jewellers in little polythene bags and patiently wait in the sun for hours together for a meeting with the shopkeeper. Slowly and slowly as my jewellery caught on, it became quite a craze within the middle class market," he recalls.
But designing jewellery will not signal an end to his romance with couture, which he considers to be as "natural" as breathing. "I will not be manufacturing my jewellery but will probably go for a corporate tie-up." Sabyasachi has another reason for going into jewellery business. "My customers sometimes appear reluctant to buy my clothes, which are very vintage in appearance, since they feel they cannot get jewellery to complement my clothes."
Life has turned a full circle for this designer, who loves to strut around in a pair of jeans and T-shirt. "Comfort is the most important aspect for me, which is why I like doing wearable clothes," he says. — TWF
This feature was published on September 18, 2004