He rocked the world with his beats
As John Lennon earns the title of the greatest rock-and-roll icon of all times in a recently conducted survey by Q, a British magazine, Saurabh & Gaurav remember the legend and discover what made the former Beatle beat Elvis Presley and David Bowie to top the list of 100 best music icons.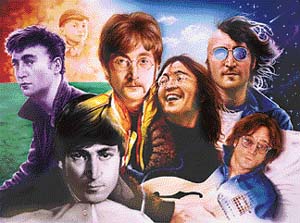 JOHN was a profoundly gifted person. His genius shone forth brilliantly in everything he did. Musician, lyricist, actor, artist, writer, political and peace activist, he performed all his roles with precision and perfectionism. As the most daring and outspoken of the four Beatles, he defined the sixties ó socially, politically as well as musically. Both as a human being and artiste, John earned immense respect of the public. As John Wenner wrote in the foreword to a collection of writings entitled The Ballad of John & Yoko, "Of the many things that will be long remembered about John Lennon ó a genius as a musician and singer ó is his wit and literary swiftness, his social intuition and leadership."
Johnís music is as timeless and relevant today as it was a generation ago. The band John co-founded as the Quarrymen eventually evolved into the Beatles, and from 1963 to 1970, they were the most successful rock group in history. It is said that the Beatles changed the world. Out of all the Beatles, John Lennon had the most interesting and frustrating solo career. Capable of inspired, brutally honest confessional songwriting and melodic song craft; he also had a tendency to rest on his laurels, churning out straight-ahead rock and roll without much care.
Even during the height of Beatlemania, Lennon began exploring a world outside the band. In 1964, he published a collection of his writings, titled In His Own Write, which was followed in 1965 by A Spaniard in the Works, and in 1966, he appeared in Dick Lesterís comedy How I Won The War. John didnít pursue a musical career outside the group until 1968, when he recorded the experimental collage Unfinished Music, No.1. His fully realized statement as a solo artist came with the formation of 1970s John Lennon/ Plastic Ono Band. It followed several collaborative music recordings towards the end of the Beatles era with Yoko Ono, his wife and collaborator.
Many of Lennonís post-Beatles compositions, Imagine, Instant Karma, Mind Games and Give Peace A Chance, have rightfully become anthems, flaunting tough-minded realism, hard-won idealism, visionary utopianism and cosmic epiphany.
During the summer of 1980, Lennon returned to recording with Yoko, and released Double Fantasy to an overwhelming response. As the album and its accompanying single (Just Like) Starting Over were climbing the charts, John Lennon was assassinated on December 8, by Mark David Chapman and with this a brilliant life came to an end. But Lennonís music still lives on, to guide us, entertain us and give our lives a new meaning, day after day.
On the event of John Lennon being voted the greatest rock and roll icon, Yoko Ono said: "John changed peopleís awareness in an incredible way, both with words and music. Indeed, it is not an exaggeration to say that there was a world before John, and the world after."