Vivekís new shauq
Randeep Wadehra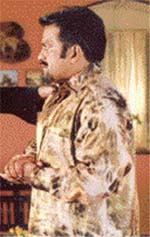 WHO can forget the character of Darmyan Singh, the truck cleaner and friend of Sunny Deol, in the superhit movie Ghadar? That role earned Vivek Shauq national recognition, although he was already a familiar figure in the Punjabi as well as Hindi entertainment world.
After acting in more than 20 Hindi and Punjabi movies, Shauq has turned producer with the Punjabi comedy feature film Nalaik under the banner of Timma Films. Directed by Ravi Nishandh, the storyline is simple: a police officerís son wants to become a dacoit and this leads to hilarious situations. The star cast includes Vivek Shauq, Arti Puri, Guggu Gill, Gurpreet Ghuggi, Rana Jang Bahadur, Vinod Sharma, Vijay Tandon, Shankar Sahni, Jagtar Jaggi, Jaswinder Bhalla, Bal Mukund Sharma and Kulbir Badesaran.
Another star attraction is Bobby Deolís guest appearance. In fact Bobby is keeping his fatherís tradition of lending a helping hand to Punjabi cinema alive. Baba Sehgal is the music director, and acts in the movie too. Lyrics are by Anand Raj Anand.