haute line
Lure of lehengas
Gulneet Kohli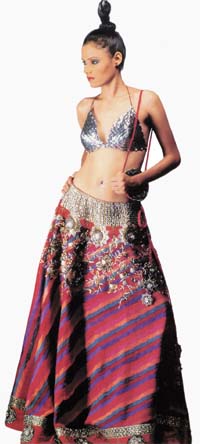 IT was the costume that won Lara Dutta the 'Best National Costune' first runner up award at the Miss Universe pageant, 2000. It's the attire, which our Bollywood queens like to don the most or, for instance some Hollywood actresses also. In almost all the pageants, functions, contests...it's a clear favourite. It's not just 'a piece of clothing' for a bride, but an aesthetically designed lehenga-choli. Add a little of western touch to it and an interesting lehenga comes up fulfilling the likes of NRI clients also. There are many types like 'cocktail lehengas', 'fish-cut lehengas', or a simple straight one also.
Lehenga is a traditional garment worn by Indian women. It is actually a long skirt made in such a way, that it is flat (without pleats) but loose and comfortable all the way up to the knee. Below the knee it is pleated and flowing. It is tied at the waist with draw strings. A choli or short blouse, which comes up to the top of the skirt is worn on top. The range of ornately embroidered lehengas and cholis can be crafted out of different kinds of fabrics, that are accentuated with matching dupattas. The fabric mainly used is chiffon, silk and satin. But for wedding purposes 'net' is everyone's favourite. The rich colours used are symbolic of festivity and fertility. Metallic yarn is traditionally used on these garments. During the actual wedding ceremony, conducted in front of the fire, the motifs and the colours of the ensemble glow, therefore, all maroons and purples are preferred for bridal lehengas.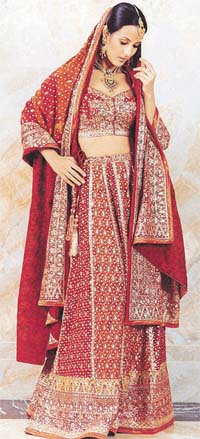 The lehenga-cholis with mirror-work look the most attractive. But the trend is on for 'heavy'blouses with elaborate mirror-work, patch work, sequins work and glass bead work. So, the ancient tradition of ethnic Indian lehenga now presents itself with the new-age look — lots of embroidery, embellished with stones and other works by highly skilled artisans. Embroidery lends a subtle elegance and beauty to the fabric. Rich expressions of artistic finery and creative exuberance are a treat with business becoming more client-based, designers say "clients that swear by the uniqueness of designs and dexterity of craftsmen are spread in USA, UK, Dubai, Australia and many countries of Europe" They add that "in spite western influences on the modern fashion industry, the ethnic element and the traditional touch to lehenga is still alive".
The Big Fat Indian wedding, which to begin with, was never about subtlety, is now bigger and flashier than ever. Designers and creators by dozens, are riding high on the wave of the demand for newer and more innovative styles of lehengas for the bride and relatives. Mohini, a manager with a company that makes trousseaus, says, "We make lehengas from Rs 60,000 to Rs 2-2.5 lakh. Most people, however, opt for the ones in the price range of Rs 1-1.5 lakh.
In the peak wedding season, we sell around 40-45 lehengas." says Gautam Gupta, manager of a Delhi-based company which makes wedding lehengas and sarees, "We work according to the client's budget. Most of our lehengas are between Rs 8,000-80,000. It's a staggering Rs 5,000-crore industry, growing at a robust 25 per cent. From Rina Dhaka to TarunTahiliani, every top-class designer is into designing exotic lehengas, specially to match the taste of the high class society. Says Tarun Tahiliani, "I offer lehengas according to the seasons. They all are with layers of fabrics without a single stitch. It's more like a gown, with a fish tail or mermaid silhoutte". Adds Rina Dhaka, "Gone are the days when heavy lehengas were in fashion, which could not be worn more than once. To ensure that the lehengas do not appear identical to what the grandma wore five decades ago, the lehengas are now designed to fit well at hips and flow out at the ankles. Even the cholis come in forms, bustier, off-shoulder, backless or even one-off shoulder to give it a more casual approach. Lehengas are all about amalgam of modernity and traditionalism. (MF)