MAKING WAVES
Teesta in full flow
Vibha Sharma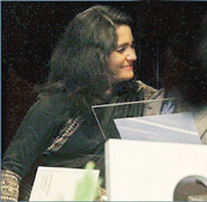 Teesta Setalvad, who along with her partner and husband Javed Anand, has been bringing out a monthly magazine Communalism Combat from Mumbai for the past more than a decade, is in the eye of a storm triggered by the shocking volte-face of Zahira Sheikh, a key witness in the Best Bakery case.
While the "good, secular human being" Teesta, as she is called by her supporters, is of late shying away from the Press and is not giving interviews since "the case is subjudice", she continues to enjoy wide public support. Her detractors, however, prefer to remain anonymous.
Former Union Law Minister and Supreme Court lawyer Shanti Bhushan terms the allegations against her as "completely unfounded." He says her work was annoying certain important people. "Anyone with the slightest common sense can see how scared these individuals are of getting convicted and going to jail. It was because of Teesta that the Gujarat police and the government have been put in the dock," he adds.
Prof Arjun Dev, a former Dean of the Social Sciences, NCERT, is equally supportive of Teesta. "It is obvious what had happened. Anyone with common sense can see through the game of the Gujarat police and the Modi government. She comes from the well-to-do Setalvad family and doesn't need to go to such extents for money."
Teesta, he says, has also evaluated and published a report about contents of textbooks at the school level and how they were trying to create hatred among students of different communities.
"I am pained, shocked but not defeated," is all Teesta, granddaughter of India's first Attorney-General M.C. Setalvad, is saying for the present.
The trial was going on very well and had shaken up the state government, she said, adding that "the noose was getting tighter around somebody's neck and I do not really have to name the person. It was a make or break situation for the Narendra Modi government. Fortunately, there are other eye witnesses who do not have any stakes involved."
Zahira's volte face has also put a question mark on the future of NGOs in such cases. There are going to be very many more if the apex court's directions are followed to the letter. There are as many as 2190 more cases waiting to be reopened, out of which 228 deal with serious issues. If these are investigated properly, it could mean imprisonment of seven years or more for many, including some from the ruling party in Gujarat.
Kirit Bhatt, a social activist in Vadodara and part of organisations like the People's Union for Civil Liberties, the Movement for Secular Democracy and Shanti Abhiyan, says Teesta has been writing on social reforms and political issues. "She is a progressive-minded socialist wedded to the cause of communal harmony."