Signs and signatures
Fury of a tormented poet
Darshan Singh Maini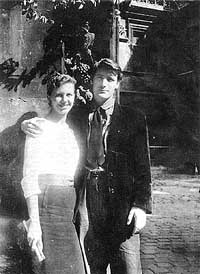 Sylvia Plath with Ted Hughes
SYLVIA Plath who became a cult figure adored by the American youth when on the fateful day of February 11, 1963, she committed a fiery suicide, thrusting her head into a gas oven. Her suicide was, at bottom, a violent finis to the war of the selves. She saw no way of ending otherwise. Her poetry was in reality an extension of the inner war, though ipso facto, it also served to dissipate the fevers raging in her blood and bones since early childhood.
Her earlier poetry consists of delicate, little poems and villanelles, but as she turned into a woman, she started writing poems "jet-blood of her heart" and "hell-fired" verses. She knew not when the song turned into a lament, a cry, a shriek, a threnody, a requiem. She had soon become "Godís lioness" about which she sings in her famous poem, Ariel. Thus, she became soon after her death an idol, an icon, and that reputation has remained undiminished since. No wonder, she earned many a sobriquet "bitch goddess", mannequin", "vampire", "Medusa", "white goddess" etc. Thatís how the critics later defined her Protean personality which is at once attractive and abrasive, sun-lit and sepulchral, authentic and fake. The most important figure in her early life was her father, the German Otto Plath, and in her terrifying poem Daddy, he turns into an ugly totem, and into a massive metaphor signalling a female hunt for being in a world without menís "stings" and "knives". All this is vividly recorded in her sequence of "bee-poems". But before we reach this harrowing stage in her journey to a Calvary of her own making, we have to go back to the image of Plath associated in the American mind with "the golden girl". Itís an image cultivated with all her cunning and intuition, for the tall, handsome, glittering blonde needed a powerful persona to perpetuate her Ďdaughterlinessí on the one hand, her sexual mystique, on the other.
Her father, then, turns into a "bogey man" hated by her "bitchy" daughter, a Nazi minister who had unconsciously poisoned her life. In the poem "Daddy", her hatred reaches a point of black pitch:
Thereís a stake in your fat black heart,
And the villagers never liked you,
They are dancing and stamping on you,
They always knew it was you,
Daddy, daddy, you bastard, Iím through.
It is the dramatisation of her "buffoonery of emotion", and she, thus, seeks her oblique revenge on her progenitors who created her female in a world of male sway and hegemony.
And this basic, irreversible sense of gender insecurity accounts for Plathís aggradisement of the self, and for the lethal, narcissism. It was only after she had become an object of sexual attraction that her tragedy as a woman, lover and wife started. A victim of sexual politics, she developed a strong streak of misandry in her. As she writes in the poem Gigolo.
And I, in my snazzy blacks,
Mill a litter of breasts like jelly fish.
She now becomes a "Demon Lover", the eternal woman who has to settle scores with God, man and society.
But, finally, itís as a wife that all the freights of her fears and repressions are fully breached, and a Niagra of lament, protest, invective and indictment breaks out in the form of stormy poems, frothing in their ire and wrath. It was her marriage with British poet, Ted Hughes that unleashes the final fury in her.
His infidelities and his hidden cruelties break her heart, and the poems written in torment become a long verdict on a marriage that was good for her verse, but bad for her person. He now becomes, along with her father, a symbol of deep hatred. The subjects of childbirth and mother-love (she had a daughter and a son) and mother-fixation ride her aggrieved imagination.
And this brings me back to where we started: her suicide and those intense poems which were written at 4.30 a.m. in the hush and chill and dark of the hour. Even the titles óThe Surgeon at 2 a.m., Fever 103, Amnesia, Thalidomide, Death and Co indicate the approaching night of storm and dissolution. Indeed, all such poems are voices from a graveyard. But Plath has been moving in that direction almost like a Somnambulist for quite some time. As early as March 24, 1957, Olive Prouty wrote her a letter in relation to one of her poems in the Atantic: "A lamp turned too high might shatter its chimney. Please just glow sometimes." Even A. Alvarez who saw her helplessly slipping into a void later said, "Poetry of this order is a murderous act". But Plath knew what she was doing. "Art", she observed, "is wild as cat and quite separate from civilisation". The last poem she was to write is ominously called Edge and it shows how she was making herself ready for the leap. She had, in a Henry James phrase, "the imagination of disaster".
Was Plathís breakdown a condition for her breakthrough or transcendence? Did she per chance achieve "the purity of a nun" as claimed by Aileen M. Arid? Or, was it a fiery nirvana, a white hunt for eternity? These questions cannot be answered within the orbit of this article. All I can affirm is the unquestionable authenticity of the "killer" verse that in its daring, vibrosity and effect went as far as poetry of this kind could go.
A difficult daughter, a tortured woman, a violated wife, a misfit mother all these roles are finally subsumed in the grand role of the "artist" Plath who could subdue life not to her necessities, but only to her art.
Plath belongs to that supreme trinity of American confessional poets ó Robert Lowell, Theodore Rothke and herself ó and like those elder poets, she unbuttoned her heart, her mind and her soul in her later poetry. Plath was a constitutive rebel, a born-revolutionary, and her poetry, therefore, becomes a troublesome story of her nature, her unique signatures. In confessional poetry, all the seams are undone, and the self bared in all its nakedness.
In all her important published volumes of poetry ó The Glosuss (1960), Ariel (1965), Crossing the Water (1971) and Winter Trees (1971), we find her tragic and traumatic life enacted in a "theatre of cruelty", so to speak. She did write and autobiographical novel, The Bell Jar and there was also a volume of published letters later. These books help supplement the poetry which remains a sui generis phenomenon in American history. She had sought to reach out to the skies and in that flight, she lost her life, but found her wings ó her poetry.