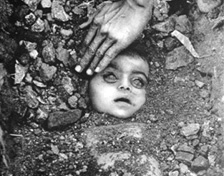 UNENDING AGONY
For those who were fortunate enough to survive the Bhopal gas leak, the ordeal continues. The poison in the environment continues to pose risks to their life and health. Protracted legal battles have led to, at best, hopelessly inadequate compensation, writes Vibha Sharma. Photos from Raghu Rai's book Exposure: Portrait of a Corporate Crime, published by Greenpeace.
The spa experience
No longer a luxury but a necessity for staying healthy, the Indian spa industry is a rage abroad, writes Divya A
The Indian spa industry is getting bigger than ever. With its ayurvedic massage therapies and product range, the Indian spa experience has become a rage worldwide. "The entire spa industry is exploding. Spas can be found in large and small towns across the country.

Vows by the sun, sea and sand
Aruti Nayar
The Bentota Beach hotel in the seaside town of Bentota, Sri Lanka, is a preferred wedding destination for many couples, mostly from Europe. They flock to Bentota for a dream-like, exotic ceremony. Taking vows in an idyllic ambience enhanced by the sea, sun and sand is a fairytale experience.

Bollywood beats rock the US
Monica Uppal Popli
A group of 40 women and men is gyrating to the pulsating Dhoom macha le in an elegant dance studio. So what's new about it? The class is Bollywood aerobics and the venue —Milpitas, California. With its fulgent glory and international appeal, Bollywood is making forays into the fitness world in America.

"Indians want a bit of chatpata stuff"
Kareena Kapoor is going through a rough phase at the moment. What she badly needs is a hit. Will Aitraaz and Hulchul do the trick? Vickey Lalwani catches up with the spunky actress.