PUNJABI ANTENNA
Cultural bonanza
by Randeep Wadehra


EYE CATCHER

She's represented India and Punjab in various cultural exchange programmes in Canada, USA, etc. In 1993, she participated in the London International Festival of Theatre, and in similar shows in France, Australia, Japan, Germany and Singapore.
A postgraduate in law, Payal was a compere for Jalandhar TV's Bachhyan Layee and has done several projects based on Punjabi short stories for DD Jalandhar. She's been a newsreader for AIR, Chandigarh, and done voiceover for BBC Radio's Channel Three involving a project on fusion of Punjabi and English poetry and music. She's done a lot of theatre, especially a number of Punjabi plays written by Surjit Pattar.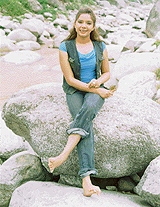 Satinder Satti: A
seasoned anchor

Saanjh Dilaan Di, telecast live on Alpha Punjabi and ETC, was a great attempt at re-emphasising the cultural unity between the people of India and Pakistan. Artistes and media personalities from across the border mingled with their Indian counterparts. Of course, it was an all-Punjabi show, but its significance as a vital input for easing tensions in the subcontinent cannot be overstated. Apart from the song and dance programme — consummated with the traditional Punjabi gusto — there was a lot of onscreen bonhomie. Hans Raj Hans rendered some of his evergreen numbers, as did Pammi Bai, Harjit Harman, Akram Rahi, Naseebo Lal, Iqbal Bahu, Sudesh Lahiri, Harbhajan Mann, Sarabjit Cheema, Sukhwinder, Jatt Brothers, Afshaan, and Suraiya Khanum, with Bhagwant Mann coming up with his trademark gags.
What makes an ideal anchor? Mastery of one's subject or being nice to the audience or something else? Perhaps it's all these and much else like self-confidence and honesty towards one's profession and a dash of chutzpah and style. In Kujh Pal Tere Naa, Satinder Satti interacted with other Alpha Punjabi presenters like Ritesh Lakhi, Sudesh Lehri, Navjot Noor, Kamaldeep and two astrologers-cum-presenters Khurrana and Pawan Sharma. The talk was interesting. However, one wishes anchors from other channels too were invited so that the boring unanimity in the discussion could be dented a bit.
Anchoring, as a profession, is still evolving as far as Punjabi television goes. Lack of professional training becomes evident when phone-in programmes are on – the body language betrays diffidence, facial expressions do not synchronise with the sentiments being aired, and worse, voice often comes across as that of a hesitant novice.
Seasoned hands like Satti and Lakhi can perhaps help newcomers polish their style, but there's certainly a dire need for professional training.