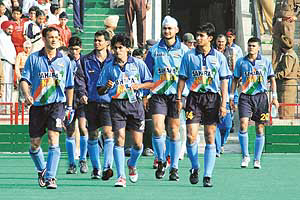 Litmus test in Lahore
The new-look Indian hockey team faces an uphill task in the Champions Trophy beginning today, writes Prabhjot Singh
After six years, the Champions Trophy returns to its birthplace, Lahore, without one of its attractions, Australia, the only team to have participated in all previous 25 editions of the tournament.

India's priority would be to finish among the top four in the six-nation tournament.
— Photo by Pradeep Tewari

Re-flex action
Abhijit Chatterjee
The International Cricket Council has opened the proverbial Pandora's box by its move to bring in changes in the bowling rule. The proposal to allow 15-degree flexing of the arm while delivering the ball has received bouquets as well as brickbats.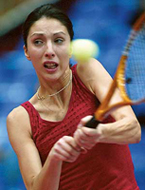 Russia's Anastasia Myskina (left) has locked horns with compatriot Maria Sharapova. — Reuters photos
IN THE NEWS
Ladies at loggerheads
Vikramdeep Johal
A couple of days before she led Russia to their first-ever Fed Cup tennis title, French Open winner Anastasia Myskina dropped a bombshell. She threatened to pull out of the team if compatriot Maria Sharapova was selected for next year's Fed Cup. For Myskina, the villain of the piece is Wimbledon champion Sharapova's over-enthusiastic father Yuri, whom she has accused of being disrespectful.