entertainment
Bollywood in Germany
Ana Lehmann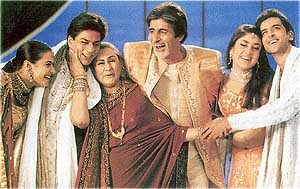 Most Germans have never seen Indian films with their elaborate satins and silks and lavish musical numbers. But one German network is bringing a Bollywood soap opera to television, hoping it will catch on. Popular in Asia, Africa and in many parts of Europe, Bollywood has also become a major trend. But while most Germans have never seen a Bollywood production, German private broadcaster, RTL II, hoping to entice them, aired the three-hour epic Sometimes Happy, Sometimes Sad (Kabhi Khushi Kabhi Gham) on November 19. According to RTL film director, Minea Bauer, the difference between Bollywood films and American or German productions is the emotional themes of Bollywood. "It is highly believable, emotional drama," she said. "They are, of course, melodramatic films that are not
told in a rational way, but which through their telling, transmit a lot of emotion."
A year and a half ago, the movie played in German cinemas. But the three-hour epic with German subtitles was too much for most Germans and it only attracted 7,000 viewers. RTL II hopes the German dubbing will attract larger audiences.
Although more films come out of Bollywood each year than Hollywood, until now, they haven't presented serious competition for American productions. But this might be changing, Bauer said, because the films are worth seeing.
One advantage of the Indian productions is their price. At about $10-12 million, they are much cheaper than Hollywood films. The private broadcaster hopes to reach eight per cent of the German audience with this first dubbed Bollywood film.
International producers are currently working with Indian media production companies to make more films for foreign markets, hoping that Bollywood becomes a movement with a future, and that that future has just begun.
(Source: www.dw-world.de.com)

The "I" man's foray into films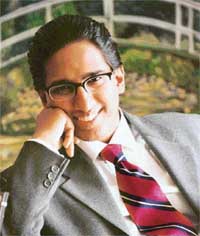 Arindam Choudhuri is managing entertainment
Arindam Choudhuri's transition from a management expert to film producer and director has become a talking point, writes Ravi Bhatia

From the pony-tailed icon of yesteryear' youth to a successful management Guru who propounded the "I" (read Indian) theory in management, an original author and now a successful movie director and producer, Prof Arindam Choudhuri has come a long way in a short time.
Working as the Dean, Centre for Economic Research and Advanced Studies, at the Institute of Planning and Management in New Delhi, Professor Choudhuri is neither smug nor satiated with his stupendous success on the eve of the national release of his projected blockbuster Rok Sake to Rok. On the contrary, he is rearing to take on new challenges.
Dubbed as the year's biggest family entertainer, the movie has all fresh faces except that of Sunny Deol. The movie, which is scheduled for release on December 10, has already received rave reviews from critics in the several special previews.
This is Choudhuri's second venture in film-making. His earlier production in Bengali, Saanjhbathir Roopkathara had met with resounding success and was among the seven international movies selected for the London Film Festival 2002.
On his transition from management expert to film producer and director, Choudhuri claimed that there was nothing unseemly or bizarre about it. He just wanted to show to the people that using the right management techniques, including a comprehensive survey of public opinion, success of any commercial venture was a certainty.
In his late thirties, Choudhuri was recently co-opted as an external consultant to the Planning Commission. Author of two bestsellers in management and economics, Count Your chickens Before They Hatch and The Great Indian Dream, Choudhuri shot into limelight by project the iconoclastic "I" management theory which the critics claimed revolutionised the Indian management principles.
His popularity in economic and management circles can be guaged from the fact that a large number of companies regularly invite him to conduct workshops for their top level executives and willingly pay the hefty fee he charges for one and half hours of his time.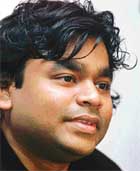 A. R. Rehman prefers to let his music talk. Despite the mixed response to his work in Lakeer and Dil Ne Jise Apna Kaha, India's numero uno music maestro has bounced back to the top with his enthralling compositions in Swades. He says, "there was no brief really.
The story was narrated to me and I agreed to score the music. I gave cartloads of tunes from which to select and Ashutosh Gowariker chose them according to the script.
"Being a master of gadgets is one of the many plus points of a composer, but not the main one. What is integral and indispensable is the melody. Once you have a happening tune, then everything else can support it.
Gadgets are of no use without happening tunes. Knowing the computer actually helps to perfect things. If somebody has gone off-key but delivered a good line with the right feel, you don't have to sacrifice the tale. You can just cut at the pitch and use it. But one manages to extract the best out of the artist."
— MF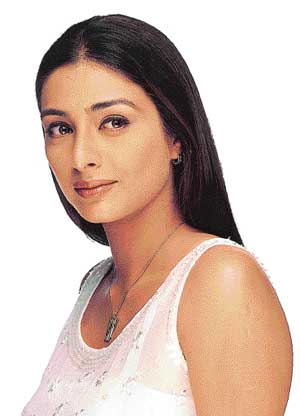 Tabu received the best actress award for a supporting role for her portrayal of a terror-stricken victim of 9/11in Gautam Ghosh's National award winning film Abar Aranye at the annual awards of the Bengal Film Journalists' Association (BFJA).