Television
Swapping lives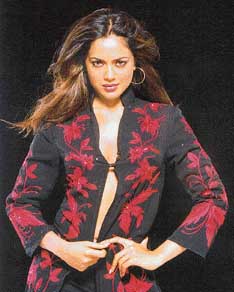 BBC comes calling Sameera Reddy
This is an exchange programme with a difference. No, it has nothing to do with students but everything to do with oomph and lots of spice.
It is between the unlikely pair of Baby Spice, aka Emma Bunton, and Bollywood siren Sameera Reddy. BBC World recently asked Baby Spice to swap places with Sameera. The result was electric. The pop diva came to India and lived the way Sameera does even shooting a song for the Dimple-Rishi Kapoor starrer Pal Tham Gaya.
"I personally planned her stay here. It was great fun," gushes Sameera. But what's going to be even more fun is her part of the exchange programme – going to London and living the life of Emma Bunton – including a guest appearance in the hit British show Casualty.
"The suspense and the excitement is killing but I am sure she's planned a cool shopping spree for me," says Sameera.
The 'celebrity-swap' show by BBC is an attempt at capturing the essence and lifestyles of two different cultures and should generate interest among the viewers. With the stunners sizzling things up in each other's worlds.
Food for thought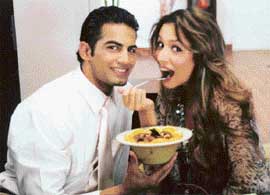 Upen Patel with Malaika Arora Khan
A cookery show for men? Who would want to watch that? Why, men of course. Welcome to the 21st century where men need to understand the nuances of cooking just as much as women do. Aired Sundays 12 noon on Star One, Cook Na Kaho is a unique concept that expands on Karen Anand's popular book Simple Cooking For Stupid Men. The host, Upen Patel is one of the hottest models on the circuit.
"The show is aimed at bachelors who want to whip up something at home that takes very little time but doesn't taste like what the cat dragged in," grins Upen.
The tone of the show is comfortable, stress free and suave. The show not just educates men on how to cook no fuss, appetising meals but also tutors them the importance of meal etiquettes, the right kind of cutlery and the significance of kitchen accessories.
The only trouble, if any, is its time clashes with the enormously popular Khana Khazana that research has shown has an ardent male viewership.
Will the Upen Patel show manage to lure in the viewers? Cook nahin keh sakte.
A different cuppa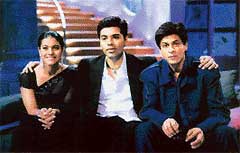 Karan with Kajol & Shah Rukh
Success surely has many friends. That's what viewers have realised after seeing a few episodes of Koffee with Karan.
When you have someone like Karan Johar as a chat show host, there can be no dearth of guests. After all, whoever can say no to one of the most successful filmmakers be it Kajol or Shah Rukh, Kareena or Rani, Aishwariya or Saif.
And thanks to such glittering names the talk show is scaling the heights and leaving behind Simi Grewal's Rendezvous, Malaika's Style Mantra and (hold your breath) Shobhaa De's Rapid Fire.
Like Karan, most of his new age star guests are articulate, gifted and forthright. There's no beating about the bush even when he asks those intimate questions with that impish glint in his eyes.
So don't switch channels yet. There's a lot happening and Koffee with Karan is turning out to be one heady brew.
Star's star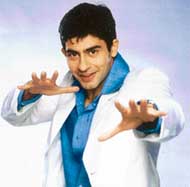 Hussain is treading new pastures
When he won the Best Dewar award at the Star Parivar awards and the Best Pati award this year, many thought he had been typecast. But Hussain is treading on pastures new.
With Khullja Sim Sim, Star Plus has once again thrown open its portal for its favourite performer who will now be the new host of the show instead of Aman Verma who is busy doing the Indian Idol on Sony.
That he is the cynosure of the channel is evident from the fact that Hussain features in Kyunki Saas Bhi Kabhi Bahu Thi, Kumkum — Pyara Sa Bandhan, Krishna Arjun and Kuch Kar Dikhana Hai, all aired on the same channel.
"It's a real challenge doing such a power-packed show," says Hussain. But considering he'd be judged against a predecessor like Aman Verma, this could be just a cakewalk. — NF