Fitness Trail

ABC of good health
Renu Manish Sinha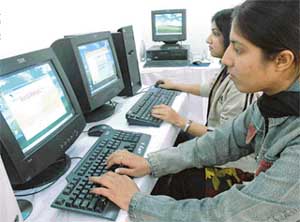 Tribune photo by Pradeep Tewari
India is riding high on the IT revolution. Economy is booming, development galloping and prosperity is visible all around. But all this has come at the cost of health and time.
Coronary diseases, hypertension, diabetes, etc. have acquired a young profile with our busy young professionals sitting behind computers for long periods and falling prey to sedentary lifestyles.
Traditional food too has become a victim in this time-starved schedule. Convenient and fast foods are the preferred choice for most busy persons.
What most of us do not realise is that these are high in sugar, fat, sodium. These are mostly made of refined carbohydrates, like maida, creating havoc in our systems and inviting a host of deadly diseases.
Exercise and even normal physical activity has almost vanished, giving way to rising levels of obesity and stress.
Time or the lack of it has been blamed for all evils of a modern lifestyle.
Most of the nutrition and fitness experts advise lifestyle changes to counter this threat.
But a mere mention of lifestyle changes makes our busy professionals squirm at the thought of making efforts for the purpose.
With the help of some local nutrition and fitness experts we demystify these lifestyle changes and suggest ways to improve your life without sacrificing much of your valuable time.
So let's decode the ABC of good health on fast track.
A is for activity. At least 20 to 30 minutes of daily exercise should be enough to maintain basic fitness. But other small physical acts, too, can add up to burn a good number of calories, especially for people with busy schedules and sedentary lifestyles.
Avoid elevator, use stairs in office. A 10-minute brisk walk during coffee or lunch break, too, can also add up to the total activity. During a short break, use the computer table as an aid to do some stretches. At home, various household chores, dusting, walking to market, gardening, etc. can add to the 30-minute daily quota.
B is for breakfast. A good breakfast is required to kick start the metabolism which has slowed down at night, says Dr Neelu Malhotra, a Mohali-based diet consultant. Since body burns fuel even at rest, the brain, which has been starved at night, needs fuel in the morning to work efficiently. Breakfast should contain 40 per cent of the day's calories and a variety of foods like carbohydrates, protein, fats and sugar. A good breakfast helps in stabilising the blood sugar and cholesterol and prevents mental fatigue during the day.
C is for calorie balance. Calorie input should not be more than the output, especially for people with desk-bound jobs. A bag of chips or an aerated drink pack enough calories to upset your calorie scale for the day. Moreover, these are just empty calories without any nutritive value.
So stock up on healthy snacks in your drawer or purse to avoid binging. Dry fruits, roasted gram, peanuts, salt and butter-free popcorns, fresh juices, lemon water, etc. make healthy choices instead of samosas, endless cups of tea or coffee, aerated drinks, chips, namkeen, biscuits, pizza, burger, etc.
Meal planning is important for busy working people. So cook dinner in more quantity to pack a healthy tiffin box next day. Even convenience foods like frozen vegetables can be used judiciously as baked vegetables, stews, stir fries. They can be pureed and used in dals, soups, or added to dough. They can also used in vegetable sandwiches, or as vegetable sticks with low-fat or curd dips.
Fresh fruits too make a better choice over sweets or chocolates for providing energy.
Desk-bound people should go slow on simple carbohydrates as they can make you feel sluggish. Complex carbohydrates like raw vegetables and fruits should be preferred as they provide valuable fibre to the system which gives a feeling of fullness for a longer period.
Protein too packs a punch as it provides energy to body and brain both. So include nuts, seeds, soya milk, tofu, yogurt, etc. to your daily diet.
Intake of fats should be minimum. Just 10-15 per cent of total calories.
High sodium and high sugar food should be avoided as excess sodium causes water retention, stress and hypertension. While extra sugar brings about a temporary high. But it also brings sugar levels down too quickly causing mood swings.
So make water your best friend. Staying hydrated can promote clear thinking and stable energy levels. Water replenishes body's moisture levels, flushes toxins and waste from cells, rejuvenates organs and aids in their better functioning. It also prevents the urge for mindless munching as we often mistake thirst for hunger.