Wednesday, December 8, 2004
Music, multi-media & moolah
Music is no longer regarded as a soft career option. It is a highly specialised field with myriad openings in recording companies, the film industry, TV channels, song writing and production, marketing and technology, writes Biswajiban Sharma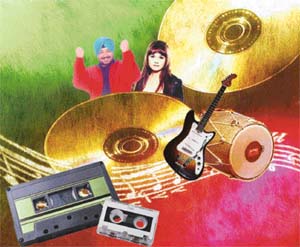 A career in music? Most people will find the notion ludicrous despite the success stories that keep doing the rounds. Is music not something you pursue in school for sheer pleasure for want of a better extra-curricular activity? Is music not a great hobby to dabble in, but too flippant a career choice? Even those who subsist on music have been at some point skeptical about whether they could eke out a living.
A decade earlier, these questions would have made sense, but not anymore. If the music contests and talent hunts on TV channels are a barometer, you may safely infer that almost every city upstart or small-town bumpkin fancies himself to be an Anu Malik. If you were to go by the hordes that turn up for these contests, you would think that it is the easiest way to propel your career on the fast track.
Apparently, music is no longer regarded as a soft career option. It is instead perceived as an industry and a money spinner at that. Nor are the career options limited to becoming a songwriter, a vocalist, a composer or a film scorer. Instead, it is a highly specialised field with myriad openings in recording companies, in the film industry, in TV channels, in writing and production, in marketing, and in technology. Says Vijay Nayar, an MBA who wants to run his own recording company, "Creative careers are on the upswing. I am an audiophile. I could easily have joined a consumer durable MNC and simultaneously pursued my hobby. But I have chosen to turn my passion –music — into a career option.''
Online options
If you are a music and technology buff, then perhaps you need to check out a career in the emerging online music industry. Apart from artists, companies need technical people who know the latest music formats – such as MP3, WMA, and Real Audio. Experts believe that Internet and digital technology will coalesce in the near future. Explains Sunil Gupta, who runs a CD company in Noida, "Instant exposure is one of the biggest advantages to an artist on the Net. Without the backing of a major recording company an artist can make a splash in the world of music. The best thing is that the distribution is no longer in the vice-like grip of the recording companies.''
Indubitably, the future belongs to the technological and the creative. The nascent industry segment also needs marketing specialists, music and software reviewers, business and salespeople. Expect a mushroom growth in the next decade.
Video vistas
Another hot growth area is music videos. The industry needs directors — at the moment they are mostly untrained with hands-on experience —, video jockeys, roadies, visual effect artists, actors, dancers, musicians and choreographers. In short, there are openings for everyone from film crew to producers. Target FM and TV channels.
Computer composing
Likewise, creators of computer games need composers who can produce original soundtracks. With video and PC game industry turning into a money grosser, there is no dearth of demand for hi-fi kids that can crank out techno beats. Those inclined need to get in touch with companies that work with sound effects and produce computer games. Send across your resume, references and sound files; most companies are listed online. Who knows, from an amateur computer musician you transform into a sound effect specialist, and that could mean a foray into Bollywood; you can initially take up freelance assignments, all you need is a keyboard and a soundtrack.
Technical track
On the technical side, there is a perennial demand for engineers who can handle recording equipment. They have to monitor each sound that enters a microphone and adjust the frequency, the pitch and the level on a control panel. Then, comes mixing and editing. This sounds like technical work, but it has a creative dimension. So, if you have an instinctive feel for music and rudimentary technical skills, you can seek openings in recording companies, radio stations, dubbing studios and entertainment industry.
The other back-room people in a recording unit are the music producer, who oversees the overall production of a recording; a studio manager, who is responsible for running the business side of a studio; a programmer, who works on music software; and possibly a sound designer who creates and records sound effects for film and television. The latter is called a synthesist. Imagine a song sequence in a thunderstorm. The sound can either be recorded or simulated with the help of electronic equipment. This is the job of a synthesist. He is employed to develop a library of synthesised sounds and effects. These creative sounds are then incorporated into the production process. It goes without saying that a synthesist should be able to handle electronic equipment.
A music producer brings together the diverse elements of recording as well as marketing. He takes many tough decisions: From booking a studio, hiring musicians and engineers to supervising the production of the recorded music. For becoming one, one must have an ear for music, technical knowledge and a flair for marketing.
Music managers
Artists need managers just as authors need literary agents. He charts the course of the artist's career, fixes your dates with recording companies, negotiates the terms and maintains a regular interface with radio and television producers, media persons and sponsors. An innate ability to spot talent, knowledge of music, a stint in the media and a business background serve to embellish one's portfolio.
Similarly, tour managers are needed to anchor musical tours. They are the event managers who get a cluster of Bollywood stars, roadies and a sound team together, keep hopping from one country to another with their troupes, entertaining NRIs and raising funds for charities. The manager or tour coordinator, as they are euphemistically called, takes care of the nitty-gritty of the trip, ensuring that the ''travelling circus'' goes about its business without hiccups.
Another growth area is musical merchandise. Says Rikhi Ram, who owns a music instruments company in Delhi, "With the advent of satellite TV and with more and more corporate entities sponsoring musical events, it is turning into a very lucrative business." Repair business is turning out to be equally profitable.
Creative calling
On the creative side, the industry needs songwriters, composers, vocalists, music arrangers, scorers and producers. Performing artists can work alone or in a group, with or without musical instrument. One could be a classical or pop artiste or jazz or an instrumental musician.
Don't worry if you are an unknown lyricist. You can team up with another songwriter or a singer and write lyrics for them. The best people who can tell you which recording artists are looking for songwriters are music publishers, recording companies and managers. If you can write as well as sing, it is a bonus. You can even choose to become a jingle writer, but for that you need to get in touch with advertising agencies. Arm yourself with a top-quality CD tape of your songs, just in case you are invited for a demo.
But what is the recipe for success? Says music critic Shanta Serbjeet Singh, ''Talent, interest, sincerity and willingness to work hard are all important in ensuring your success in the world of music. If you have a measure of luck, then it is an added advantage. And if one trains under a good tutelage, then the sky is the limit.''
Training talk
If you want to make a full-time career as a performer, you must join an institution, says another music critic P.V. Subrahmanyam. But before joining an institution, one should be clear which course one wishes to opt for — classical, folk, jazz, pop or fusion. However, there is no undermining the importance of hard work, dedication and commitment. Big names in music industry like Shubha Mudgal have made it to the top with sheer hard work and riyaz (practice). Adds Shanta Serbjeet Singh, "As one is not too financially secure in the beginning, it is imperative that one builds an image."
Of late, as there is stiff competition in playback singing – classical, semi-classical and light music. A lot, therefore, depends on lucky breaks, says renowned vocalist Savita Devi. But all said and done, one must have a genuine love for music, a sense of time and rhythm, versatility, creative ability and confidence, she adds. Once you are recognised and established, there is ample scope for making good money.
No special academic qualification is required to enter the field of music. However, for taking up a course in music at an institute the basic requirement is plus two. The certificate course is for a year, the bachelor course for three years and diploma and PG courses are for two years. The Chennai-based Kalakshetra and Delhi-based Bharatiya Kala Kendra and Gandharv Mahavidyalaya are big names in the field. The basic course covers music theory, music interpretation, history of music, composing, voice instruction, voice modulation etc.
Apart from the entertainment industry, production houses, music companies and TV/FM channels, there are employment opportunities in educational institutions, kala kendras, Culture and Public Relations Departments of the government and musical research institutes. Even some hospitals employ music therapists.