Wednesday, December 8, 2004
Corporate Chat
"Technology has created diverse jobs in music industry"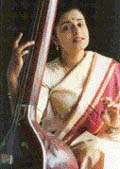 Deepti Omchery Bhalla
A woman of many parts, Dr Deepti Omchery Bhalla is a singer, dancer and an author. Proficient in both Carnatic and Hindustani classical music, Natya Ratna Dr Bhalla is presently the Associate Professor in Carnatic Music at the Faculty of Music and Fine Arts, University of Delhi. Excerpts from an interview:
Why did you choose music as a career?
Well, it was an unplanned move. In fact, I come from a family where each one of us is integrally associated with music. Unlike other children, I spent my childhood with a tamboora and veena. My mother was a well-known singer of her time. So, hard work, my background, grooming in the family and a deep interest in music played a big role in my taking up music as a full-time career.
What kind of money is there in this industry? Did you take to music for money or fame?
I have been associated with the music and the dance industry for the last 25 years. The last two decades have witnessed a sea change: Today, the bottomline is the struggle for existence. There is hardly anybody who takes up music as a hobby or for sheer pleasure. This was not the case earlier. One reason is that now there is a great deal of money in the profession. For example, in Mumbai, even a nondescript stage singer or tabla player is earning in lakhs. They are propelled by the desire to make money and are least bothered about fame. Monetary return is more important than applause. The surge of multi-media and the rapid strides in music technology have thrown up all kinds of opportunities. But for me, money and fame are equally important.
What are the opportunities in the music industry?
There are multiple avenues. Twenty years ago, the industry was confined to singing and composing. But today, the scene is completely different. From sound recording to composing and from music ensemble to teaching, there are many roads leading to music. However, one should have excellent training. On the Internet superhighway and in this age of multi-media, technology takes precedence over music. If one has an academic degree or diploma and hands-on training, one can find a foothold in the industry.
How do you define success. What are your immediate goals?
I think I have acquired all the things that I aspired for. At this point in my career, I only hope that more and more people come to know me. My foremost goal is maximum recognition, which I think I have achieved to some extent. I have been bestowed with many awards. That is the ultimate. However, I think I still have a long way to go.
Tell us about one of your memorable performances?
Once I had gone to Patna for a solo performance – Carnatic and Mohiniattam. While I was performing, someone in the audience came to the desk with a lathi and tried to stop the show, but when I requested the person to watch the show till the end, he obliged. After the show, he came to me and apologised for his conduct and told me that he really enjoyed the show.
— Biswajiban Sharma