Lamp for literacy
A silent revolution in Narwana district of Haryana has been transforming the lives of thousands of underprivileged girls. Geetanjali Gayatri visits Gurukul Kharal that has made the education of the girl child its mission.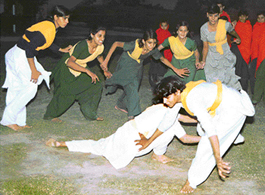 They are untouched by the outside world. Within the four walls of Kanya Sanskrit Mahavidyalaya, Gurukul Kharal, Narwana district, Haryana, life goes on at a leisurely pace. Here, every day, young minds celebrate a small triumph over illiteracy as they shuffle through the pages of their books in the classrooms.
The Gurukul offers a number of sports and extra-curricular activities

Bridge across cultures
An expert in ancient studies, Ian Desai has won the Rhodes scholarship this year. Ashok Easwaran meets the Indian-American who has worked on a rare subject — the comparison between the Mahabharata and the Illiad.
Indian-American Ian Desai, one of two students from the University of Chicago to win a Rhodes scholarship this year, is an intrepid explorer.
Couture queen
Swarleen Kaur
Ritu Kumar, the queen of the Indian haute couture, was awarded F-award — the best designer award by Wizcraft — in Mumbai recently. She has also been voted the best fashion designer of the country by the Outlook magazine.
Now diamonds are for everybody
Sujatha Tiwari
The Indian diamond industry cuts and polishes diamonds worth Rs 40,000 crore every year. In short, 11 of the 12 diamonds set in jewellery across the world come from the cutting and polishing units in India. In the jewellery manufacture also India produces about 50 per cent of the finished products.