Television
Advertised act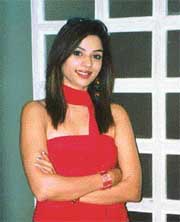 TV attracts versatile Sonalika Chopra
She calls herself a walking-talking ad for the new Sahara One serial Kuch Love Kuch Masti. Before venturing into television, Sonalika Chopra was a copywriter with an ad agency.
But there is more to Sonalikaís than just doing copy for ads like Kit Kat and Munch. She also found time for modelling and has done assignments for top-of-the-line organisations like Samsung, Airtel, Esteem, Ikon and is currently seen in an LG ad.
"I was in two minds about auditioning for this serial. But when I heard the story I was absolutely fascinated. The role is one big masti," says Sonalika, who plays Vartika, a woman who does not believe in marriage but dates a married man.
"I was getting bored of advertising and was looking for a more exciting avenue," says the Delhi University Economics graduate out to prove thereís more to life than a 10-to-5 job. Today even as stars like Jassi and Pooja in Yeh Meri Life Hai aspire to become professionals hereís a real-life professional who has become a star.
Doctorís woes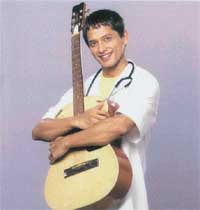 Vinod Singhís exit from Aayushman disappoints
It was a parting of ways waiting to happen. Vinod Singh, who played the 17-year-old teenage doctor-prodigy in Aayushman on Sony Entertainment Television has been shown the door and replaced by little known Sudeep Sahir.
Production house Cinevistaas is reported to have taken the tough decision after Vinod Singhís alleged spat with a crewmember. "His intemperate behaviour was getting on everyoneís nerves," says an insider.
With Yeh Meri Life Hai and Hum 2 Hain Na not rocking any more, the channel could be in serious serial trouble if the new Dr Aayushman doesnít click.
"I wish him all the luck," says Vinod and adds that he couldnít handle the role any longer. Though viewers flipped for his ever-smiling demeanour, in real life, he says, the stress of working 16 hours a day wiped the smile from his face.
Divya is back in action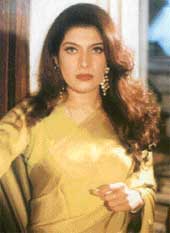 Divya Seth is following mom-in-law Sushma Sethís footsteps
Two decades ago, she wowed viewers playing Majli in Indiaís first TV soap Hum Log. Such was her appeal that she was swamped with offers. For years after that she kept giving memorable performances in serials like Daraar, Adhikar and Abhimaan.
But soon after Sparsh in 1999, Divya Seth did the vanishing trick and moved away from the arc lights to take a break for marriage and motherhood.
Sheís decided to don the grease paint again for a new and yet untitled daily soap on Zee TV. "I am as excited as any newcomer," says Divya, who plays a woman who takes over as the head of a political family after her husband is assassinated. The serial that brings back the Kittie Party team of Shobhaa De and Manish Goswami also stars Rohit and Ronit Roy who play brothers.
But itís Divya who is the focus of attention. Still looking ravishing after all those years, her phone hasnít stopped ringing after she accepted the role and producers are beseeching her to sign on the dotted line. Is this a one-off affair or is she planning another long stint on TV? "I canít say. If I am as much in demand on TV as mummy is in films then Iíll stay on," says Divya about her real-life mom Sushma Seth last seen in the Shah Rukh Khan-starrer Kal Ho Na Ho. ó NF
Pop goes Sir Elton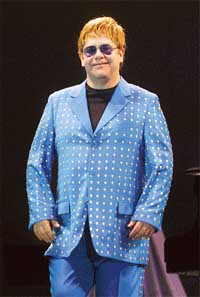 Sir Elton John is the first pop icon to make a TV sitcom
It must be a record even for the Guinness Book. Sir Elton Johnís name figures six times ó most weeks on charts, most consecutive years on charts, highest best selling albums, most musical collaborations, most performances and the biggest hit ó Candle in the Wind.
Now the record books can add another record ó First pop icon to make a TV Sitcom. Sir Elton is now producing a TV series for ABC called Pop Goes The Star revolving around an aging popstar who canít come to terms with his waning popularity.
He says categorically, "It is not autobiographical. But itís something we all have to go through ó the insecurities of aging and alienation with the younger generation. In that way itís about me, itís about Rod Stewart, about Mick Jagger and others."
Says the singer of superhits like Rocket Man and Donít Let the Sun Go Down On Me, "The sitcom will be the biggest hit on TV. Iíve even composed a special song for it." If his prophesy comes true, Sir Elton will once again become the most prolific and gifted contemporary musicians to rock the fans at 57. Another Guinness record.
Movie bonanza
If Bali on Star Oneís new slot Studio One was anything to go by, you can forget about going to a theatre every Friday and watch a movie at home.
The channel which aims at airing the latest in alternate cinema is set to woo viewers far removed from those who watch soaps about squabbling saas-bahus. The movies promise to be nail-biting thrillers. Though a different movie will be aired every Friday, all films will stick to the USP of the channel ó young and urbane. Ad man Prahlad Kakkarís debut film, Bali aired on December 10 was an adaptation of Roald Dahlís Slaughter. The channel aims at delivering varying genres, including comedies, thrillers, mysteries and romances.