CAREERCATURE
by Sandeep Joshi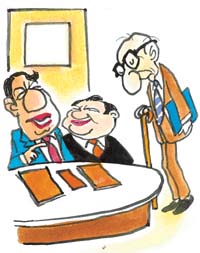 Your qualifications are good but we are looking for a more experienced person.

New-age information managers
Sumeet Ghai
THE information era has thrown up many challenges not only for libraries but also for librarians. By drastically changing the information environment, it has transformed the role of librarians into those of information managers. UNESCO believes that libraries of all kinds are probably the best agencies to maintain a free flow of ideas and information and create a climate of mutual understanding and friendliness.
Livelihood in Library Science
Manish Kumar Singal
Mention of library science brings to one's mind the image of a librarian issuing or reissuing books. But a librarian's work is not limited to this. It is a full-time job where one is expected not only to manage books but also deliver information relating to texts, journals, periodicals etc.


WORK WISE
"Adversity brings out a personís potential"
Manoj Kumar
ATUL Mehrotra, CEO, Pinnacle BPO City Pvt. Ltd, a company based at Gurgaon, has seen various ups and downs in his career. Starting his career as a management trainee with the Swadeshi Polytex Limited in 1983, he has worked with various companies.


SMART SKILLS
Immense choices in Ireland
Usha Albuquerque
Globalisation has caught up with education in a big way. In today's fiercely competitive environment, students are shopping around for the best education money can buy. And if it's not available in India, they are ready to pack their bags and shop elsewhere.


CAREER HOTLINE
Opting for newsreading
Q I would like to know what to do to become a news reader. Is there any special qualification or audition to make a career in this line? Please guide.