PUNJAB
HARYANA
JAMMU & KASHMIR
HIMACHAL
REGIONAL BRIEFS
NATION
OPINIONS
MAILBAG
BUSINESS
SPORTS
WORLD
N A T I O N

I am being harassed mentally, seer tells NDA team
Chennai, December 15
A five-member National Democratic Alliance (NDA) delegation met the Kanchi Shankaracharya at the Vellore Central Prison today and later alleged the Shankaracharya was mentally tortured in custody.


SC to hear seer's bail plea tomorrow

VHP lambasts NDA leaders

Cops inspect trust, girls hostel records

HC says no to euthanasia

In video (28k, 56k)

PM to make statement in Parliament on foreign policy
New Delhi, December 15
Prime Minister Manmohan Singh intends to make a comprehensive statement in Parliament by next week on foreign policy, well placed sources told The Tribune today. The PM's statement is likely to be made on December 22 or 23, the last day of the Winter Session.
Advani had prior knowledge of Babri demolition: CBI
Lucknow, December 15
The CBI today told the Lucknow Bench of the Allahabad High Court that BJP president L. K. Advani had prior knowledge that the Babri Masjid at Ayodhya was going to be demolished.
Sonia invites Laloo, Paswan to dinner
New Delhi, December 15
United Progressive Alliance (UPA) Chairperson Sonia Gandhi has invited the two warring political veterans of Bihar — Railway Minister Laloo Prasad Yadav and Steel Minister Ram Vilas Paswan — for dinner at her official residence tomorrow.


Adivasis from Assam, under the banner of the All-Adivasi Students Association of Assam, in their traditional dress demonstrate against the Central Government at Parliament Street in New Delhi on Wednesday.
— Tribune photo by Rajeev Tyagi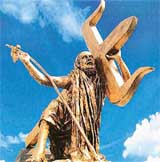 This bronze sculpture depicting an anguished Kanchi Shankaracharya Jayendra Saraswati and captioned "Curse or cross" is the latest creation of Shihan Hussaini, a well-known karate expert and sculptor of Chennai. — Photo by S. Sukumar
Rs 45 crore each for terrorism-hit districts
December 15, 2004
Prohibitory orders in 2 Meghalaya districts
December 14, 2004
M.S. Subbulakshmi cremated with full state honours
December 13, 2004
Finance panel report ready
December 12, 2004
Pranab moots common Indo-Pak market
December 11, 2004
Indo-Pak visa curbs for traders may go
December 10, 2004
Nath bullish on trade with Israel
December 9, 2004
Hiked power charges shock industries in Himachal
December 8, 2004
SC dismisses Pepsi, Coke petitions
December 7, 2004
Employment guarantee scheme may be delayed
December 6, 2004