AUDIOSCAN
Astro-notes

Music for Rejuvenation (Music Today)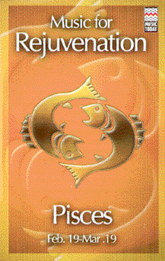 We all know that music rejuvenates but this album goes well beyond attempting that job. Just as we have colours and numbers for various zodiac signs, this album divides music according to the sun-sign under which you were born. So, there are 12 different cassettes and you have to choose one which suits you.
According to the producers of this unusual set, the specific music helps you to connect with your own inner oasis, nurturing your heart as well as rejuvenating the body. I am not sure whether the sun-sign music has any scientific background but what is true is that the music is good. I tried out several of them without bothering about the sun sign and they all had a soothing quality.
Each side has about 20 minutes of smooth-flowing instrumentation which indeed puts you in a trance-like state. That is the magic of rhythm. If someone wants to relate it to astrology, it is their business.
Bhaav Tarangini (Times Music)
This album is a unique collection of abhangs or hymns in praise of the Lord, sung by Hariharan and Suresh Wadkar. It depicts the glory of the Almighty in his various forms. It describes a dancer's quest for salvation and the struggle for self-realisation. The album was launched by the President of India on November 23 to coincide with Sri Sathya Sai Baba's birthday.
The album consists of 18 hymns which have been composed by Ashit Desai. Its producer, Vasanthi Sridhar, one of the leading Bharata Natyam dancers, has also produced a dance drama titled Narthaki Kirtanam based on these hymns. The finest of the lot are Anchita Kunchita by Hariharan and Anand Sharnam by Suresh Wadkar.
Mere Samne Wali Khidki (Sagarika)
The remix juggernaut rolls on reshaping everything that comes in its path. Each one of them claims to be different and yet proves to be a carbon copy of a thousand others which have come before it. This one is equally routine.
Several melodious songs have been rearranged by Jatin Sharma and Nilesh Dahanukar and sung by Vaishali Samant and Avadhoot Gupte. By way of introducing contemporary style all that has been done is the insertion of a lot of synthesiser sounds and perking up of the tempo.
—ASC