PUNJABI ANTENNA
Winsome satire
by Randeep Wadehra


EYE CATCHER

The daughter of filmmaker, writer and actor Vijay Tandon, Pooja, earned popular appreciation for her role in the ballet Heer Ranjha presented at Tagore Theatre in January 2003.
Her first onscreen Punjabi performance was in the movie Ishq Nachave Gali Gali. She's done several videos for different Punjabi channels. The latest is Ishqe di Agg of the late Surjit Bindrakhiya, which, incidentally, was his last video presentation.
This student of MCMDAV has been signed up for Lekh Tandon's yet to be titled serial, and is the leading lady in a forthcoming Hindi movie Pyar Isi Ko Kehte Hain, directed by Ravinder Peepat. She's also working in the DD teleserial, Jiwandata.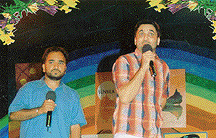 Bhagwant and Rana on the sets of Jugnu Mast Mast

Satire is a prod that keeps the elephantine societal mindset on the right path. This prod has been used since time immemorial. As per recorded history, the Roman writer and poet Gaius Lucilius (180 – 102 BC) employed scathing invective, anecdote, dialogue and fable to criticise contemporary goings-on and check evil.
After having evolved into a distinct literary form over a period of time, satire now manifests itself in varied hues on different media, including the small screen; Punjabi television's no exception. Punjabis have a robust sense of humour. They can laugh at their own foibles, and come up with pithy observations on the idiosyncrasies of the high and mighty.
Bhagwant Mann and Rana Ranbir on Jugnu Mast Mast (Alpha Punjabi) are quite popular for their rugged wit. They caricature corrupt elements in our society and highlight various problems that common folks face everyday – be it predators in the shape of policemen or government officials angling for bribe. However, Mann could do better than repeatedly mimic west Punjabi – especially the Bhappa – diction; he's versatile enough to portray other Punjabi dialects. Jugnu…, garnished with Haryanvi, Kashmiri and Himachali flavours could reach out to wider audience in the region.
Sudesh Lahiri is an upcoming comedian. He's taken to parodying snobs in our society with typical Punjabi aplomb. His Alpha Gaddi is certainly earning viewers' acclaim for some great mime-based comedy. His recent spoof on people's propensity to have big dogs of imported breeds as pets was rib-splitting.
Then we have Gurpreet Ghuggi lampooning hypocrites, snobs and others of their ilk. In fact one finds that he targets common folks' idiosyncrasies more often than those belonging to the ruling elite. Ghuggi Online (MH1) is certainly good for people suffering from low blood pressure.
However one does miss some of the old timers like Jatinder Kaur, Jaswinder Bhalla and others who gave quality performances despite the fact that DD Jalandhar faced no competition. Now, despite competing channels, mediocrity rules the idiot box.