Sight & Sound
Hardly international fare


Amita Malik
There I was in Goa, with sea, sand and lovely sunshine, covering Indian International Film Festival, in real life as well as on TV. And I must confess, with sadness, that the TV coverage was dismal although all the big channels were milling around the festival complex.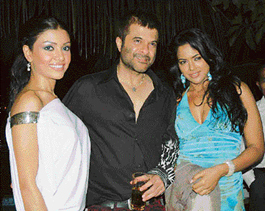 Television channels focused mainly on Bollywood stars
It is a wonderful venue, Goa's scenic beauty is unchallenged and where else can one come to the festival by ferry and get off the boat right near the festival venue, since it is on the banks of the river? The festival complex is designed by famed Goan architect Charles Correa and is beautiful as well as functional. The famous Goan cartoonist Mario Miranda has done the large cartoons on the walls of the main cinema.
However, all this was downgraded by the poor quality of the foreign films. And Indian regional cinema was swamped by Mumbai. For the first half of the festival one saw TV interviews only with Mumbai stars and directors. And endless discussions on Cannes versus Goa. Aamir Khan was interviewed three times on each channel as was Karan Johar. I had yet to see an interview with a single foreign director or star. And at the festival regional personalities such as Mrinal Sen, Kamal Haasan, Girish Karnad, Arinbam Sharma of Manipur, Jahnu Barua of Assam and Amol Palekar were conspicuous by their absence. Jabbar Patel, a giant of Marathi cinema who also made a monumental film on Ambedkar, was at the festival. But I had yet to see him on TV. As for foreign personalities, I was still searching for them on the TV screens.
I have therefore come to the sorry conclusion that the reason for this surfeit of Mumbai and neglect of national and international personalities is because the present generation of TV reporters is only familiar with mainstream Mumbai cinema and is either ignorant of, or not interested in, national cinema outside of Mumbai, and certainly totally ignorant about international cinema. So social events, such as parties, were getting more time on TV than films. I think it is time our channels built up lists of film experts to do media coverage and give inexperienced and largely ignorant reporters a rest. They are simply not good enough.
The tragic incident of Brazilian footballer Christiane, who scored the winning goals for Goa's Dempo Club to win the football tournament, was shown clearly on TV. It showed the Mohan Bagan goalkeeper committing a vicious foul on Christiane after he scored the prize-winning second goal. Television can, therefore, provide vital evidence about the incident and its rights and wrongs.
I hope the role of TV in such situations is recognised by the enquiry committee. It shows the skill and dedication of our TV cameramen, who are seldom mentioned in the credits, but are doing a splendid job and have given Indian TV the technical status it now enjoys.
As we go to press, there is the tragic news of the passing of the one and only Subbulakshmi. There has never been a singer like her, combining physical beauty with spiritual beauty and a voice which moved millions. That she moved out of the boundaries of Carnatic music and became a national and international icon is largely due to All India Radio.
Dr Narayana Menon, a veena player and an enlightened media man started the national programmes of music on AIR, when he was Director-General. This not only gave listeners a chance to listen to Carnatic and Hindustani music but also brought musicians such as Subbulakshmi into millions of homes. Both her Bharat Ratna and recital at the United Nations in New York were milestones in a rich career. There will never be anyone quite like her again.