Spain's trophy, India's atrophy
Prabhjot Singh
A new-look Spanish team sprang a surprise to break the monopoly of top four superpowers of world hockey — Australia, Holland, Germany and Pakistan — to win their first Champions Trophy gold. An unimpressive India, on the other hand, lost yet again to Pakistan in the bronze medal play-off to finish fourth.
A mediocre India managed to win only one match out of six, losing twice to arch-rivals Pakistan. — Reuters photo

IN THE NEWS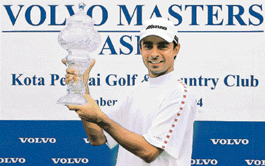 Master of Asia
Vikramdeep Johal
Having gone winless in the past year, Jyoti Randhawa had begun to doubt his game. But his coach Kel Llewellyn knew that it was just a matter of time before his pupil would be back on the winning track. He proved to be right as the 32-year-old golfer won a tense showdown against Australian Terry Pilkadaris to clinch the Volvo Masters of Asia title in Kuala Lumpur.




Ten nations, one rally




Travelling 8,235 km through 10 countries, the first ASEAN-India car rally concluded in the central Indonesian island of Batam on December 11. The Brunei team was adjudged the best team of the non-competitive event. Veteran rallyist Vicky Chandok led the Indian team to the venue of the concluding ceremony, also attended by Tarun Gogoi, the Chief Minister of Assam, the state from where the rally was flagged off by Prime Minister Manmohan Singh on November 22. — PTI