M.S. Subbulakshmi, shared a devotee's relationship with music. Radha Balakrishnan pays a tribute to the legendary singer who passed away recently.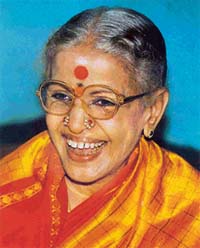 M.S. Subbulakshmi: Singing with her soul
M.S. Subbulakshmi, the embodiment of music, perhaps the most charismatic artiste of our times, held centrestage for more than 60 years. Providence had blessed her with a honeyed voice with an exclusive, rich timbre that was unequalled. In millions of homes in India and abroad, Subbulakshmi's rendering of Sri Venkatesa Suprabatham and Sri Vishnu Sahasranam provides spiritual succor and tranquillity to generations trapped in the hurly-burly of every day work.
MS, as she was popularly and affectionately known, a multifaceted personality, could traverse spaces and distances to strike a rapport with people from different cultural backgrounds.
Born on September 16, 1916, into the family of Subbramani lyer and Shanmugavdion at the temple town of Madurai in Tamil Nadu, MS was formally initiated to singing by her mother who was a noted veena player. She gave her first stage performance at eight year of age. MS immortalised many songs including Vaishnava Janalto — a favourite of Mahatma Gandhi, Meera bhajans, Annamacharaya kirtans and many more. Invited to render a concert before the UN General Assembly in 1966, she kept the audience, comprising many heads of state, spellbound. She also acted in a few Tamil films during her youth. Her first movie, Sevasadanam was released in 1938, followed by Shatemthalai, Savithri and Meera to mention a few. A globetrotter, MS was the first woman to be awarded the Sangita Kalanidhi by the Madras Music Academy. She was honoured with the Magasaysay Award in 1974 for giving maximum benefit concerts and was honoured with India's highest civilian honour, the Bharat Ratna in 1996.
Her marriage to T. Sadasivam, a veteran nationalist, in 1940 was a major turning point in her life. The fact that MS belonged to the Devadasi (temple dancer) clan did not deter the young idealist from marrying her. He gave up his job and concentrated on guiding MS' musical jouney. She always described her husband as a friend, philosopher and guide who moulded her music and concerts to perfection. The concerts were always recalled as being throughly rehearsed and flawless. MS would have still been a lodestar in the musical constellation, but it was her husband who selflessly and self-effacingly stood behind her all those years to ensure that she reached where she did.
MS supported many philanthrophic activities. In 1944, following Rajaji's suggestion, MS conducted a series of benefit concerts to collect funds for the Kasturba Memorial fund. This was perhaps the first of the benefit concerts which MS conducted to collect funds for a cause. She treasured the letter she received from Gandhiji in appreciation of her work. Both MS and her husband helped a staggering variety of public causes, both by donating royalities from her LPs and by benefit performances. MS had cut discs to provide funds for the Bhaarathi Memorial Mantap, Gandhi Memorial Mantap, Hindi Prachar Sabha, the Kamakshi and Ramaswamy temples... the list goes on. She also donated generously to Sankara Nethralaya Research Foundation, Chennai. The Magsaysay Award money of $10,000 was promptly donated to three different causes in India. Perhaps, the most touching aspect of MS and her husband's involvement in charity was when the latter announced that MS would no longer sing for money at a time when the couple were facing severe financial difficulties. Their bungalow 'Kalki' gardens' was sold to meet the debts. From a very lavish lifestyle, they had moved into a simple rented house.
To MS, music was not merely an art form. Given her total dedication and involvement, it was a penance that is larger than life itself. If she strode like a colossus on the scene of Indian music all these years, it is because she inhaled music with every breath. MS strove tirelessly towards perfection in the diction of innumerable songs in more than 20 languages.
The characteristic simplicity of her style, without nerve-wracking bungee jumping displays, is symbolic of innate sophistication. The dignified manner with which she conveyed her ideas should serve as a lesson to modern-day hopefuls.
In September, 1947, A.I.R. contacted Sadasivam to inquire whether MS could sing a few bhajans on October 2, Bapu's birthday, To every body's surprise, Gandhiji insisted on MS rendering Hari Thuma Hari, a Meera bhajan, Sadasivam humbly sent a message stating that MS was not familiar with the tune and the song. Gandhiji sent word that it did not matter. He would rather have it spoken by Subbulakshmi than sung by others.
"I am a mere Prime Minister, but you are a queen, Queen of song", said Jawaharlal Nehru while paying tribute to MS Subbulakshmi, after a charity recital in New Delhi on November 29, 1953.
Her concerts had melody and simplicity of presentation—all part and parcel of a well thought out process to maintain an aesthetic and exalted ambience. She was humility personified. I had the honour of sitting on the stage way back in 1945, as a small child when MS came to New Delhi to perform in the Karnataka Sangeetha Sabha. Much later, MS visited Chandigarh in November, 1971, to give a concert under the aegis of Tamil Manram. The contact was scheduled to start at 4.20 pm, at Bhargava Auditorium, PGI. I went to the greenroom at 4.10 pm to offer a string of jasmine. To my surprise, MS was already there with all her accompanists tuning their respective instruments. Both MS and Sadasivam were sticklers for time. MS started her concert with Guru Nanak Dev's shabad, much to the audience's delight. It was Gurpurb. I could see the audience becoming emotionally moved. The next day she came to our place for breakfast. Without fail, she had the old faded jasmine string on her. That was MS.