Across the divide
There are as many voices and opinions on Kashmir as there are people but the desire for removal of controls on both sides of the LoC cuts across all lines, finds A.J. Philip as he travels to PoK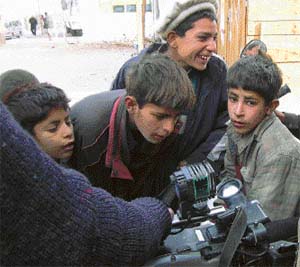 "It's a computer," says one of the boys as they crowd around and take a close look at a TV camera. — Photo by the writer
FOR us Indian journalists visiting "Azad Jammu and Kashmir" at the invitation of the South Asian Free Media Association, Mirpur, located at the extreme south of the state, was the first port of call. And it was not a flattering experience to be welcomed as "journalists from held Kashmir and India".
When every dignitary at the Kashmir Press Club at Mirpur where we were showered with fresh rose petals referred to "India-held Kashmir," we felt uneasy. Etiquette prevented us from calling them journalists of "Occupied Kashmir". Vinod Sharma who led us came up with a brilliant suggestion that we refer to the "Kashmir on this side of the LoC (Line of Control) and the Kashmir on that side of the LoC".
As the new nomenclature found ready acceptance from our hosts, we wondered whether it was not time India and Pakistan thought of newer, less belligerent names for the parts of J&K they controlled.
We were already behind schedule when we reached Jabeer Hotel after the reception at the Press Club. The lift did not work and a lone usher had a tough time lugging our luggage to our respective rooms. In the end, many of us chose to carry our own luggage and be in time for the reception the local unit of the Pakistan People's Party hosted for us.
Our hosts were in a jubilant mood. News had just come about the release of Asif Ali Zardari, the husband of PPP chief Benazir Bhutto. We could hear crackers bursting outside as every speaker wanted all "Kashmiris" to be involved in any talk on the future of their state.
Essentially politicians, they had no specific solution to proffer to solve what India calls the "Kashmir issue" and what Pakistan calls the "Kashmir dispute". So, it was a great relief to return to the room and hit the bed. But before long, there was a knock on the door. It was with some measure of trepidation that I opened the door. There he was a tall old man with a packet.
"Would you like to have a copy of my latest book?" he asked apologetically. Since I could not read Urdu, I politely declined his offer. I could hear him knocking on another door when I got under a thick blanket.
Next morning, we were slated to meet displaced people from Rajouri. Most of them were tied and booted and they did not measure up to our image of "refugees". Mohammed Sharif Tariq, an advocate, was careful to salute us with "Assalam Alaiqum, Namaskar and Sat Sri Akal". Left to himself, he would have carried on expounding on Kashmir, which had a distinct identity since time immemorial.
Only later did we realise that Tariq was an author. He gifted each of us a copy of his thick book Kashmir in Strangulation. Restlessness grew among the audience when Tariq did not give in to gentle persuasions to stop. After all, everyone was eager to proffer his own opinion.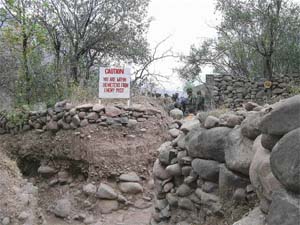 From Chakothi, India is at a stone's throw.
— Photo by the writer
Sam's show
Mohammed Khaled wanted India and Pakistan to remove all the forces from J&K. He believed that both countries danced to the dictates of Uncle Sam. In fact, many people in Pakistan seemed to believe that India's foreign policy was dictated by the US. They also thought it was the Indian Army which administered J&K and not an elected government in Srinagar. It also seemed that they learnt the words "plebiscite" and "UN resolutions" even before they learnt the Roman alphabets.
As discussions centred on reviving the Kashmir state as it existed under the Dogra Maharaja, a youth caused a flutter when he blurted out that half the people in the room were intelligence men. "There is no azadi in "Azad Kashmir", he said as several angry faces turned towards him. He was cut up with the authorities as he was denied permission to start a newspaper of his own.
We wondered what would happen to him when we left for our next appointment. The divisions among the people were sharp and the whole state seemed Babel-like. Later, at the library hall of AJK University at Muzaffarabad, two groups of students nearly came to blows with slogans of "Pakistan murdabad" and counter slogans of "Kashmir banega Pakistan".
As I looked for a cyber café, a young man volunteered to drive me to the "best in the town". Was it safe to get into a stranger's car? He could read my mind. "Don't worry. I am the Bureau Chief of the Daily Express". Sherbet Muneer drew a modest salary of Rs 10,000 but he had a flashy car to drive around. "I have many relations abroad. You will not find anybody in Mirpur who does not have somebody in the UK or the US." The people from Mirpur are the largest foreign exchange earners of Pakistan.
They are also the ones who finance azadi the most. At the cyber café on the third floor of a well-stocked department store, I found little schoolchildren playing computer games. "They skip classes to come here" said the cyber café attendant.
I managed to rejoin the group at the Kashmir Continental Hotel where Pir Mohammed Atiq-ur-Rahman, President of Jamait-Ulema and member of the AJK Assembly waited for us. The Maulvi seemed to evoke a lot of veneration from his followers who were present in good number. He talked about how he had to return from the Wagah border though he had all the required travel documents.
Peace on wheels
While everybody liked the idea of the Srinagar-Muzaffarabad bus service, they all insisted that for Kashmiris travel across the LoC should not be on the basis of passport and visa. "For a few years after Partition, only a residence proof, authenticated by a designated official, was required for such travels", recalled Sardar Abdul Qayyum, former Prime Minister of POK and easily the tallest leader in the state.
It was a refreshing experience interacting with the bearded leader, who was the most realistic among those we met. While paying handsome compliments to A.B. Vajpayee, who set the present peace process in motion, he bemoaned the deterioration in the standards of leadership in both the countries. "When leaders become weak, other agencies become powerful". That was how Qayyum explained the phenomenon of militancy.
"Had India not restricted the movement of people across the LoC, the present situation would not have arisen". At one time, he had suggested the formation of a designated area on the LoC, where the divided families could meet one another. He was optimistic that the present initiative would bring peace. However, Qayyum would have been happier if Vajpayee had ordered ceasefire along the LoC before he made his historic visit to Lahore and signed the Lahore Declaration.
Finally, it was left to Pakistan to take the initiative on ceasefire which it ordered a year ago, to be reciprocated immediately by India. Our visit to Chakothi from where India seemed just a stone's throw was eventful as it coincided with the first anniversary of the ceasefire.
Pakistani soldiers whiled away their time listening to Indian songs and watching pirated VCDs of Indian movies. The drive from Muzaffarabad to Chakothi was one of the most enchanting. The road ran along the meandering Jhelum with its crystal-clear water.
On the way, a young group of protesters shouted, "Down, down America, Down down UN, Down down terrorism". One of them thrust some handwritten notes into our hands. One was by Waleed Abbasi, a Class VII student. In his note he said, "Allow us Kashmiris to stay united". Another one by Jameela said, "People are poor. Do something to solve our problem".
As the bus moved, there was another demonstration where the protestors shouted "No Accession, No Merger, We want Independence". Obviously, word had spread that we were on the way. At Chakothi, many of us wanted to spend a penny— a euphemism—and looked for a convenient place. "Please don't cross the mark, the area is heavily mined" cautioned Sarfaraz, a soldier.
Line function
Major-General Shaukat Sultan, who received us at the Chakothi post and briefed us on ceasefire, complained that India violated the Karachi agreement by erecting a fence within 500 metres of the LoC. He was holding against a newly-built concrete wall, which was itself a violation. A newly dug pit behind him suggested that some other construction was underway as well.
But at Chakothi, the common people rejoiced in the fact that the guns had stopped booming. In the precincts of a school damaged by Indian shelling, teaching was back to normal, though for publicity purposes no repair was done to the badly battered building.
At Chanari Rest House on the way, Sahibzada Ishaq Zafar, State President of the PPP, waited for us. A realist as he described himself, he wanted a soft LoC and a solution through talks. But he could not rise above his party's position on the Kashmir issue. From Zafar to Amanullah Khan, who controls the JKLF, it was a sea change.
Nattily attired, Khan did not look like a "militant" as he waxed eloquent on his arrest in the UK, his efforts to save Maqbool Butt, who was hanged in Tihar Jail, and the good old days when only the Kashmiris were involved in the "freedom struggle".
Khan had a neat formula to blame the various players in Kashmir. Indians should account for 30 per cent of the blame, Pakistanis 20 per cent, international community 10 per cent and Kashmiris themselves 40 per cent.
He was thrilled about his recent meeting with President Pervez Musharraf because "for the first time he admitted Independence for Kashmir as an option". He stood for a secular independent Kashmir of which Jammu, Ladakh and Northern Areas would be integral parts. "Guns will not bring peace. But then without guns nobody listens to us", the veteran militant leader justified.
But for Anwar Khan, the hawkish President of the AJK who had a military career behind him, it did not matter much that Northern Areas were not part of his state. In an instant, he could give the names of all the generals-turned-leaders to suggest in the process that he was in the same mould. Under the AJK Constitution, only a Muslim could become President. He was all for accession of Kashmir to Pakistan.
Power supposedly rests with the Prime Minister but in the past, to quote Benazir Bhutto, "Pakistan had arrested the prime minister of Azad Kashmir, rigged the state election, and alienated the Kashmiris to such an extent that they want an independent Kashmir". The incumbent PM, Sardar Sikandar Hayat, is a dyed-in-the-wool politician who believed that the idea of an independent Kashmir was more fanciful than logical. But he would leave the matter entirely to the people of Kashmir on both sides of the divide.
Promise of land
Speaker Sayyab Khalid of the AJK Assembly was extremely pleased to show us around the impressive circular legislature building. The Legislature consists of a 40-member Assembly and a 12-member Council. He talked about the virtual sovereignty AJK enjoyed and the "supreme" powers vested in the AJK Supreme Court. AJK had its own TV.
For a change, we could watch Indian news channels in AJK unlike in the rest of Pakistan where only entertainment channels were allowed. At Sangam hotel, a group of intellectuals waited for us. Among them was Prof Salima Ata. She said she was denied a visa three times by India.
"The beauty of our land has become a curse for us. Neither India nor Pakistan wants to part with it. Leave the state to us. We will live peacefully as good neighbours of India and Pakistan", she said in soliloquy-style.
If reconciliation was the theme throughout the journey, the situation was different at the Manakpayam refugee camp on the outskirts of Muzaffarabad. There, for the first time, we heard about revenge and vendetta. "We will not let India rest in peace when we are in this pitiable condition" said one of the talkative refugees. They all had fled from India. Each of them got Rs 750 per month besides free education for their children.
However, Mohammed Rafiq, who came with his wife eight years ago from Kupwara, would like the peace process to bear fruit. He would like his children to grow up as good citizens and get on with life rather than waste their time in meaningless pursuits.
Politically, the Kashmiris were divided but they were all united on one thing – they wanted the restrictions on the movement across the LoC to go. If Europe could accomplish it, why not India and Pakistan, they seemed to ask in a chorus.