Curtains down on folk forms
Anjum Sayed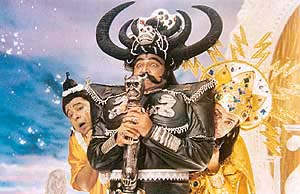 Costume drama no longer attracts attention
CALL them loud, vulgar, burlesque, puerile... but they are as much part of India's glorious heritage as jatra and ramlila. While these traditions of the performing arts have survived the advent of modern technology and modern forms of entertainment, nobody spares a thought for vesha, kaniyan koothu, tamasha, domkachh, swang....
These impromptu shows, rigged up on make-shift platforms at village squares had a compelling appeal on the masses. The five forgotten folk forms, fast-receding into the pages of history are:
Mujra: Bollywood has vulgarised mujras into a many chandeliered performance by nautch girls for the benefit of the nawabs and landed aristocracy. Traditionally though, it used to be performed in the market place and even now, at Pasarhatta Bazaar in Mirzapur, Uttar Pradesh mujra dancers can be seen performing for their supper. The 'golden period' of the mujra was between the 1930s and 1960s when dancers like Hasina, Saraswati Bai, Nirmala Devi, Malkina, Vimlabai, Macharbai and Chunni-Munni commanded a fan following in Central India, comparable to film stars. Today, their descendants have drifted into performing at marriage functions.
Chavittu Natakam: Time was when Jawaharlal Nehru invited artistes of this unique musical drama from Kerala to perform at the Republic Day parade at Delhi in 1962. Stylistically based on the martial art kalaripayattu, temple arts koothu and koodiyattam, European opera and Elizabethan theatre, this oral tradition is already lost in the absence of visual documentation of the works of old masters. This is a form of Christian theatre, founded by Chinna Thampi Annavi, a Tamil Christian missionary, in the 17th century.
Company drama: Unlike other folk theatre forms, company drama performances took place in enclosed spaces, with elaborate props and curtains to separate audiences from the performers. Borrowing liberally from the Indian folklore, Hindu mythology and western forms, its most famous production is an adaptation of Romeo and Juliet, called Ramavarmaani Leelavathi.
Repetition of stories and failure to attract fresh talent has led to vulgarisation of this theatre form.
Tamasha: In western India, particularly Maharashtra, this used to be the most popular entertainment form.Targeted at a male audience, this form of dance-drama is performed by gaudily dressed women replete with seductive lavni dances, folk songs and flirtatious question-answer sessions, loaded with double entendre.
Of late, tamasha had to concede ground to Bollywood with old troupes reinventing themselves by playing the latest film hits to attract audiences. — MF