Television
Fitness fundas
IT'S definitely not about girl gazing and it's certainly not a show of bodies. Health shows in India are vigorously scoring hearty TRPs and even critics who had dismissed them as skin shows in disguise are now bowing to the inevitable.
Fitness shows that promise to keep viewers energetic are topping the charts. With staying fit catching on in India, shows like Doctor NDTV, CNBC's The Good Life Show, Sabse Fit on Aaj Tak and The Good Health Show on Zee TV are up in the sweepstakes. Lately Star One has jumped on the bandwagon with its new show Body and Soul. Production houses feel that the average Indian is becoming more health conscious and needs expert advice on everything from the right diet to toning the body and from stress busting to meditation.
It's not surprising why many urban Indians are switching on to these wellness shows turning their bedrooms into makeshift gyms.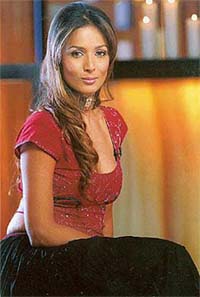 Style is Malaika Arora's forte
A model style guru
Wherever Malaika goes, can style be far behind? First she did a Style Check on MTV and now her Style Mantra is working on Sahara One.
The new show explores the lifestyles of the rich and the famous, unearths their fashion secrets and examines an entirely different, glamorous way of living. The trouble is that Style Mantra is pitted against a slew of other similar talk shows, including Power Trip by the formidable Shobhaa De also on Sahara One.
According to Malaika, her show is different as it features film stars, models, industrialists and politicians, and those who watched her on MTV will now come to Sahara One. Her show, she adds, is aimed at attracting younger viewers. The model-turned-star-turned-showhost is also all set to launch her own clothesline in the coming year.
Big screen for Mouli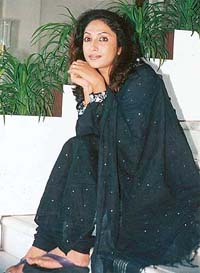 No insubstantial roles for Mouli Ganguly
Kaahin Kissii Roz established her as a small screen diva and Saaksshi gave her the status of a serious star. But Mouli Ganguly's infatuation with the small screen seems to be diminishing even as Shaina and Saaksshi become a distant memory for her.
The Bengali belle's absence from the TV is not due to a dearth of offers but because of her new-found love for films. She is also starring in Rituparno Ghosh's Raincoat that is ready to hit the silver screen. With the film, Mouli's career has taken an unexpected turn and a number of prestigious film offers are falling in her lap.
So is she quitting the small screen for good? "Not at all," says she. "My career began with television and it will always be dear to me."
Though she recently signed Swaarth, a serial by Manish Goswami, she says she will henceforth consider only those offers that interest her. "I will definitely not do insubstantial roles only for money. When I play a part, I have to enjoy it." The trouble is that the kind of roles she enjoys are hard to come by on the small screen.
Final frontier
Inventions and technology, spiced with a dash of creative genius, help to make science fiction entertaining. Star Trek's brand-new series The Enterprise has them all— luxurious spaceships, exotic aliens, bizarre civilisations and Captains Courage. The extraordinary sci-fi saga and the legendary Star Ship are back with unadulterated adventure. The new season begins with the latest phase of exploration of the final frontier under Captain Jonathan Archer, where they encounter some old enemies — the Klingons and the Andorians — and some new ones — Suliban and Xindi.
However, the five-year mission this time round doesn't concentrate on voyages to seek out strange new lands. The yarn is spun a little more to include an attack on Earth. Humanity is under threat and The Enterprise the only hope.
The riveting sci-fi drama was first aired in 1964. The NBC rejected the pilot episode entitled The Cage saying it was too cerebral. But ever since the channel okayed the second pilot Where No Man Has Gone Before, there's been no looking back.
The latest series of Star Trek are as captivating as ever — a combination of real and imagined knowledge — and a must watch for all trekkies.