PUNJABI Literature
Last of Amrita's love poems
Nirupama Dutt on the delights of this year: Love poetry by Amrita Pritam and essays on the colourful and brilliant Balwant Gargi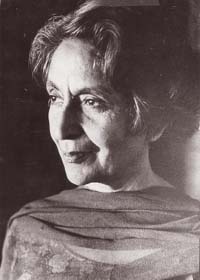 If the world of Punjabi letters had a promiscuous writer it is Amrita Pritam. Born in 1919, Barely 12 in 1931, she had published her first anthology of poetry called Amrit Lehran. However, she got serious notice as a poet when she turned sweet sixteen in 1935 with the publication of Thandian Kirnan (Cool Rays). There was no looking back after that in her journey from Lahore to New Delhi. She authored over a hundred books of poetry and prose. Looking at the leit motif of her poetry, the themes touch humanism, love and freedom.
The year 2004 saw the publication of her last book of verse called Main Tainu Phir Milangi (I will Meet You Again), published by Shilalekh, Delhi. These include poems written in the new century along with some very poignant poems written from the sick bed. The title poem was written from the sick bed for her love and life partner Imroz. Many of the poems deal with life and death for now the Punjabi poet is terminally ill with her soul seeking release from the prison of the body. In the title poem, she consoles her lover that she will remain with him in his memory:
Perhaps I will become a
figment of your imagination
and maybe
spreading myself
in a mysterious line
on your canvas
I will keep gazing at you
`A0The anthology also encases her dreams for her creativity was very close to the sub-conscious. This anthology, which completes a journey begun seven decades ago, was easily the book of the year 2004.
* * *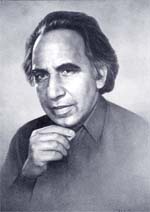 Balwant Gargi
Remembering the colourful and brilliant writer and dramatist Balwant Gargi is the theme of the book Gatha Gargi Di, published by Lokgeet, Chandigarh, edited by Mohan Bhandari. It contains essays on Gargi, penned by different people. Gargi loved sensation and also kiss-and-tell accounts, which caused agony, rightfully too, to his lady loves in his lifetime. So many of the essayists have kept a sensationalist approach in recounting anecdotes about him.
This book brings back to the mind the stir that Gargi created way back in the late seventies with the publication of autobiographical novel called The Naked Triangle. Gargi had rubbed many the wrong side by trying to churn out a sexy volume. Among the people whose love lives he had described in detail were writer and filmmaker Rajinder Singh Bedi who was having the last fling with a starlet in Goa. The account by Gargi created a rift in his family and I recall Bedi telling me in an interview: "I may have slept with 10 women and Gargi with 20 but that does not make literature. Literature is quite another thing." The famed writer of Ik Chadar Adhorani knew well what literature was.
* * *
`A0Another contemporary of Bedi, the legendary Devendra Sathyarthi, passed away in 2003 and a book called Satyarath was published by Navyug, Delhi, in 2004. Satyarthi followed a maverick path all his life, collecting folk songs and penning poetry and prose sometimes in Hindi and sometimes in Punjabi. His creations had to them an element of absurdity and satire. He was one of the towering figures of Punjabi literature. Influenced by Tagore, he would roam about all over the country, often making himself an uninvited guest in the homes of writer friends. Urdu maestro Saadat Hasan Manto had written a short story on his unplanned visit to Bedi's home in Lahore and his stay which ran into a month. He was a familiar figure in the Mohan Singh Place Coffee House in Delhi and the book fairs in the capital. His humorous verses are still recited in the literary circles like:
Chaali boot handa laye Dilli vasdean
Coat mere nu sharam na aaye dasdean
(I 've worn out forty boots in Delhi city
My coat is shameful for it has lasted more)
Or
Kal de Jamme Chandigarh da
Ki itihas, Miss Dass?
(What history can the newborn city
Chandigarh have, Miss Das)
The Miss Das was probably the more visible woman in the new city and this somewhere irked him.
* * *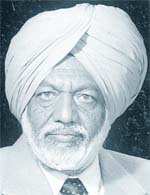 Sarup Singh Ankhi
A novel that was liked by Punjabi readers was Ram Swarup Ankhi's Dulhe di Dhaab, published by Lokgeet, Chandigarh. Ankhi is a Barnala-based fiction writer of many seasons. He also publishes a literary magazine called Kahani Punjab. His novel of 2004 is an evocative study of the social structure of a Punjab village as it was.
The year also saw the emergence of Balbir Parwana as a writer of short fiction. A senior editor with the Left-wing Punjabi paper Navan Zamana, Parwana is a sensitive writer. His collection of short stories Dhuaan, published by Chetna Prakashan, Ludhiana, places him as a fiction writer of promise.
Last but not least was the publication of an English-Punjabi Dictionary in Roman Script by Ajanta Books International. The book is valuable in understanding contemporary spoken Punjabi and a boon for those who know not the Gurmukhi script, especially the second and third generations of non-resident Punjabis. S. Balwant and Jasbir Atwal have done well to put it all together.