Da Vinci Code a clear winner
Have you got your hands on the bestsellers of 2004, asks Priyanka Singh after browsing through Chandigarh's bookstores.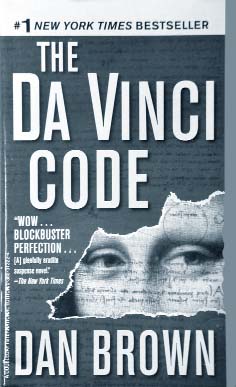 The year 2004 has been good as far as books go. Book enthusiasts couldn't have had a more exhaustive canvas to choose from. By far, the book that did the best in the fiction category is the The Da Vinci Code by Dan Brown, which has outstripped all other novels in terms of sales. A murder mystery with references to the Holy Grail and descendants of Christ, the book owes its sales mainly to word-of-mouth recommendation.
Priced at Rs 85, Five Point Someone by Chetan Bhagat, recipient of the Young Achiever award by Society, has sold well too. Its subtitle — What not to do at iit — has done its bit to draw students and former iitians.
Titles that sounded offbeat also helped the sales. Curious Incident of the Dog in the Night Time by Mary Haddon is about a special child who witnesses a dog being murdered.
It will be heartening for those who have grown up on vintage Sydney Sheldon to know that he is still in the reckoning. His Are You Afraid of the Dark has done extremely well. "It is a bad book that has only sold too well," says Ajay Arora of Capital Book Depot in Chandigarh.
The other fictions that have done notably well include The Last Juror (John Grisham), The Hungry Tide (Amitav Ghosh), Magic Seeds (V.S. Naipaul), Paradise and Other Stories (Khushwant Singh) and Transmission (Hari Kunzru).
In the category of fable-fiction falls the inspirational The Monk Who Sold His Ferrari by Robin Sharma. Moderately priced at Rs 175, the book is about a busy lawyer who has to quit after suffering a stroke. In his quest for meaning, he leaves for the Himalayas. "It has competed well with other perennial books like The Alchemist (Paulo Coelho), The Power of Now (Eckhart Tolle) and Many Lives Many Masters (Brian L Weiss)," says Pankaj P. Singh of The Browser, a book store-cum-library in Chandigarh.
"Often it happens that if a book catches the fancy of readers, they like to read more of the same author. Robin Sharma spun off six books soon after his first work was a stupendous success. Out of these, Who Will Cry When You Die has done good," says Ajay.
In the non-fiction mode, the book that has sold phenomenally during the year is My Life by Bill Clinton. Though priced at Rs 895, it has done brilliantly, so much so that distributors in Delhi are still clearing back orders.
Eats, Shoots and Leaves by lynne truss has gone down well with lovers of English language. It is essentially a funny take on grammar and the subtitle —zero tolerance approach to punctuation — explains it all.
Walking with the Gurus (Goodearth Foundation) is a guide to historic gurdwaras and is region-specific, yet it has sold well.
Some of the other books that made a mark in the non-fiction category are five people you meet in heaven (mitch albom) and in the name of my father (Rahul Singh).
A few titles on current affairs were also well received. These include engaging india (strobe talbott), through the corridors of power (p.c. Alexander), journeys through babudom and netaland (t.s.r. subramaniam).
There have been some major releases towards the end of the year that look promising. In the fiction grouping are state of fear by michael crichton, cloud atlas by david mitchell (booker shortlist), the master by colm toibin (booker shortlist), the Line of beauty by allan hollinghurst (Booker prize winner of the year) and the piano teacher by Elfriede jelinek (Nobel prize winner of the year).
In the non-fiction classification, the ones to look forward to are the eighth habit by stephen covey, idea of pakistan by stephen cohen and maharanis by lucy moore.