flashback 2004

partying shot
Eat, drink and be merry
Dish out the family favourites but make a resolve to keep the festive fare simple, manageable and home-cooked. Pushpesh Pant suggests ways to land in 2005 on a full stomach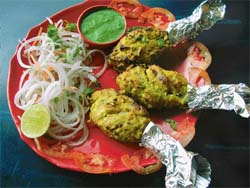 The New Year Eve is traditionally celebrated with a 'gala' feast. Actually, it is a long extended week beginning with X-Mas that merges with the New Year. Some do it at home but an increasingly large number opt, for some inexplicable reason, for expensive treats at hotels and restaurants. Waiting with excitement, mostly feigned, for the clock to strike 12, then the burst of firecrackers and joyous shouts announcing the arrival of New Year are part of this modern ritual shared with family and friends, business associates and quite often, even strangers greeted with inebriated warmth.
The only problem is that like all rituals these festivities have begun to jade and taken a tedious turn. One goes through the moments without any genuine enjoyment and all this while poor food, expensively paid for, remains the most neglected item. Time has come to rise in revolt, buck the trend and restore to this occasion the old cheerful spirit by bringing food to the centre stage.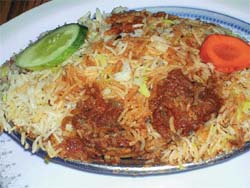 This is the time when forgotten recipes and family favourites can be brought back to the table or innovative impulse given full freedom, flirtations with the exotic indulged in. Don't forget that the first month of the year gets its name from Janus, facing both directions past and future, at the same time. In culinary terms this has always inspired us to revive delicious nostalgia blended with palate fantasies. Continuity and change, tradition and ultra modernity become natural allies during this twilight week. Let this theme enliven your dining pleasure.
The crucial thing is to plan in advance, and avoid becoming a martyr. What is the point of acquiring the reputation of a great host when all your time is taken up by chores in the kitchen? Believe us, a simple meal can be elegant and dramatically impressive. Just take care to exclude the clich`E9s — butter chicken, karahi paneer, gobhi masala, mah di dal preceded by 'heat and eat' tikkas or kebabs. Spend some time to recall what family and friends like but have not tasted for a while.
Plan a menu with the predominance of dishes that can be prepared — marinated not cooked — in advance. Soups, baked and steamed dishes are all extremely satisfying on cold winter evenings. A substantial one-dish meal, a roast or biryani or tehari with raita, pickles, relishes, unusual salads are perfect choices. If the likes and dislikes of family members and guests are known, the choice of main dish becomes easier. Remember, fish and chicken require much less cooking time than lamb. But if lamb is preferred, then opt for a recipe like gosht khada masala or pasande or dum ka keema that can be outstanding without much hassle.
Involve everyone at home with planning but do keep a surprise up your sleeve — whole fish pan grilled in banana leaf, a salim ran, dum ka Hyderabadi murgh or a Thai curry (red, green or yellow doesn't matter what), redolent with kaffir lime and lemon grass or pan-fried Singapore noodles seemingly prepared impromptu on popular demand or to accommodate unexpected guests.
For starters, consider hot tandoori chat, which can be made without much trouble on tawa and gas flame, and dim sums, which are lighter and subtler than pakora and finger chips.
Drinking binges should be saved for another day. If tippling is a must, let it be an evening of wines — Indian wines are doing the slogan of swadeshi proud and there is no need to be inhibited about serving these. It is a con that imposes imported table wines on the native wine lover.
Pepper up the conversation with comparisons of merits of Grovers versus Riviera, Indage versus Chowgule or your preference for reds and whites. Vintage can wait for a while. South Africa and Australia need be remembered in the context of cricket. A hot toddy, rum-fruit punch is another great idea. Mocktail mixing is worth mastering. Virgin Mary licks colas and juices any day. Masala tea is another matter.
Concentrate on the quality of ingredients and eye appeal. Often, a change in tempering and garnishes alone is enough to transform an ugly duckling into a swan, a commonplace Cinderella into a stunningly beautiful princess.
You may, on this magic evening, replace everyday plates with the neglected thali and katori to serve a pre-plated meal Indian style and allow the diners the freedom to move around unchained to the table or to enjoy the music, conversation or the movie on the CD/DVD with this truly moveable feast balanced on the lap. Refills are easy and can be self served.
Deserts offer a wonderful opportunity to 'show case' your creativity. Try stewed or poached fruit, dried apricots or use canned peaches in syrup — bathed to remove excess syrup — combining these with more fresh or dried fruit, figs maybe, and drape with homemade balai (clotted cream) or shrikhnad or mishti doi or unsweetened rabari.
Even the most fussy weight watcher sugar counter cannot object seriously to a healthy dose of fructose and lactose. And, if you wish to splurge just this once, who is there to stop you from sprinkling on top of this marvelous confection half a motichoor ka laddoo or decorating it with a jalebi, half a gulabjamun, a spoonful of gajar ka halwa, or all of these. This crowning glory can be dazzlingly displayed in a saverin mould. The variety of colours, textures and tastes lingers on much into the next month.
However, don't lose precious sleep reaching for what is beyond grasp. Don't blow away hard-earned lucre — it is never filthy — on hyped up festive frenzy. Have a memorable light and delightful meal of your own making at home with the loved ones and dear friends and wake up light-hearted and clear-headed into the New Year.