flashback 2004

Much DHOOM about nothing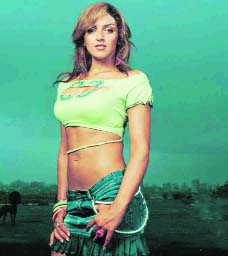 Bollywood produced no clear winners or losers. It is hard to name the best movie or actors of the year. The dream merchants came up with bold experiments like never before, though the themes were largely spin-offs from Hollywood hits, says Saibal Chatterjee.
The variety of themes that Bollywood addressed in the year 2004 was unprecedented. The upshot wasn't. As always, Mumbai cinema delivered more misses than hits during the year even as several big-ticket productions did manage to garner bumper collections.
Hum Tum centred on the age-old battle of the sexes. Main Hoon Na and Veer-Zaara upheld the virtues of India-Pakistan amity. Girlfriend dealt with lesbianism, while Phir Milenge tackled the plight of HIV positive people.
Any number of Hindi films sought to exploit erotica in its coarsest form. Yuva explored the influence of politics on contemporary youth. Dhoom revolved around the exploits of a biker gang. Dev focused on the impact of communalism on the police force.

Never before had Bollywood experimented with such a wide range subjects. While some of these experiments were attention-grabbing, their success rate was well below par. Yet, films that clicked commercially did well enough to ensure that 2004 would go down in the annals of Bollywood as one of its better years.
King Khan
The year belonged two Bollywood men whose fates were inextricably intertwined — Yash Chopra and Shah Rukh Khan.
Chopra's banner, Yashraj Films, delivered two of the year's biggest hits — Hum Tum and Dhoom — before the veteran producer-director, coming off a seven-year break, crafted the overlong cross-border love saga, Veer-Zaara. The film demonstrated that the man who made his directorial debut in 1959 (Dhool Ka Phool) and branched out into production in 1973 (Daag) had lost none of his creative and marketing skills.
Much of the credit for the success of Veer-Zaara rightfully went to Shah Rukh. Although his box office prowess was never in doubt, it was 2004 that saw his ultimate apotheosis. Main Hoon Na and Veer-Zaara catapulted him to a different stratosphere altogether, inviting comparisons with the one-time one-man industry Amitabh Bachchan.
Shah Rukh came tantalisingly close to attaining the same sort of iconic halo, having delivered three resounding mega hits in the space of 12 months — Nikhil Advani's Kal Ho Naa Ho (2003), Farah Khan's Main Hoon Na and Yash Chopra's Veer-Zaara. The year drew to a close with Ashutosh Gowariker's Swades, in which the superstar clocked in with what was by far his most authentic screen performance to date.
It was finally being said there is — and was — nobody quite like the reigning Badshah of Bollywood. Indeed, Shah Rukh was probably on the verge of outstripping the Big B himself.
Bachchan reigned in an era when television hadn't overrun our lives and Hindi cinema was the only means of recreation for an overwhelming majority. His films did not have to jostle for space and eyeballs with other inviting forms of entertainment.
Shah Rukh Khan, on the other hand, is a creature of the television age. Getting couch potatoes to abandon the comfort of their living rooms, head for a multiplex and consciously pick out a particular film to invest their time and money in certainly takes some doing. Shah Rukh has been doing just that with amazing regularity.
But that was strictly in terms of trade. When it came to quality, 2004 was probably Bollywood's worst year in living memory. A majority of the year's hits — Murder, Masti, Hum Tum, Main Hoon Na, Mujhse Shaadi Karogi, Dhoom and Aitraaz — were either ripped off from Hollywood hits or were composed of elements unabashedly cannibalised from masala movies of the past.
It was a year when Bollywood indeed stopped thinking for itself. It fell back on old classics like Sholay and Mughal-e-Azam to generate some buzz. Re-released in Mumbai in a digitally enhanced form, Ramesh Sippy's superhit, Sholay put many a new film in the shade. A colourised and re-mastered Mughal-e-Azam, unveiled over four decades after the original K. Asif epic rewrote Hindi movie history, also made a strong impression. What's more, veteran filmmaker Yash Chopra used old Madan Mohan compositions for his film Veer-Zaara.
As original ideas dried up, the advent of a New Bollywood that had so grandly and eloquently been extolled by every rag in the nation remained a distant dream. Too many me-too films came and went without creating so much as a ripple. Trouble was that Bollywood continued to spend much more on stars and locations than on the process of script development. So the story had a familiar ring: one step forward and two steps backwards.
Sex, a commodity that sold famously in the brazenly exploitative Murder at the start of 2004, outlived its utility by the end of the year. Shoddily-made quickies like Hawas (like Murder, a copy of Unfaithful), Tauba Tauba, Kis Kis Ki Kismat, Julie and Inteqaam (Basic Instinct revisited) sank without a trace despite the game efforts of the likes of Mallika Sherawat, Meghna Naidu, Payal Rohatgi, Neha Dhupia and Nethra Raghuraman. Even Ram Gopal Varma's offbeat musical, Naach, had leading lady Antara Mali sporting some of the most outlandishly revealing costumes but to no avail.
The Bhatt camp had made a killing in 2003 with the steamy Jism. Early 2004 saw them getting away with Murder. But the box office failure of Tumsa Nahin Dekha, featuring Diya Mirza in the skimpiest of attires, brought them down to earth. Titillation lost its teeth.
It was also a year of major big budget duds. Much-hyped films like Deewar — Let's Bring Our Heroes Home, Rakht, Lakshya, Kyun.... Ho Gaya Na, Balle Balle Amritsar to LA (the Hindi version Gurinder Chadha's Bride & Prejudice, Dev, Yuva and Musafir came unstuck at the box office. War films bombed left, right and centre and so did horror films like Krishna Cottage and Vaastu Shastra.


Peace formula
Yash Chopra's Veer-Zaara and Farah Khan's Main Hoon Na, two of the biggest hits of 2004, were bound by a common cause — Indo-Pak friendship. Thanks to their runaway success, peace peddling emerged as a box office formula in an otherwise jingoistic film industry.
Gone were the days when Pak-baiting was a failsafe commercial mantra. In the recent past, much-hyped releases like Anil Sharma's Hero, J.P. Dutta's L.O.C. – Line of Control and Milan Luthria's Deewaar bombed. So the man who made the flag-waving Gadar —Ek Prem Katha, Anil Sharma, quickly modified the script of his latest film, Ab Tumhare Hawaale Watan Saathiyon, to factor in the new climate of bonhomie sweeping across India and Pakistan.
Much like Gadar, Ab Tumahare Hawale had started out as an anti-Pakistan film. Halfway through the year, in deference to the changed geo-political realities, it turned into a film about a joint anti-terrorism operation. What that proved yet again was that the moolah-seekers of Mumbai's movie world are easy to sway.
Quite apart from the fact that it was an entertaining film, Veer-Zaara was a clever concoction. It tapped into the current air of Indo-Pak camaraderie with a melodramatic cross-border love story. Main Hoon Na, too, sang paeans to the cause. Their suspect intentions apart, there could be no quarrels with their advocacy of peace. Will they sing the same tune when another round of Indo-Pak hostilities erupt?
Amid all the box-office mayhem, one tried-and-tested genre, however, held its own. Comedies enjoyed a steady run at the box office, continuing a trend established many years ago by the David Dhawan-Govinda combo.
The reigning high priest of comedy, Priyadarshan delivered yet another successful comic romp, Hulchul, to build on his already formidable reputation as a purveyor of screen humour (Hera Pheri, Hungama, et al). Godfather met Romeo and Juliet in a comic collision in Hulchul. Critics carped; the masses lapped up the film.
Potboiler man Indra Kumar ended a rather protracted lean patch with the lowbrow Masti, a slapstick comedy about three friends who decide to pump some excitement into their drab married lives by seeking moments of bliss outside wedlock.
David Dhawan, too, was in desperate need of a big hit to reclaim his turf as a successful director of comedies. Mujhse Shaadi Karogi, a romp in the Deewana Mastana mould, provided just that. Even Kunal Kohli's Hum Tum, one of the biggest hits of the year, contained a strong comic strain.
Indo-Pak bonhomie became the flavour of the year. Main Hoon Na and Veer-Zaara, both starring the infallible Shah Rukh Khan, advocated an end to hostilities between the two neighbours even as the Pooja Bhatt-produced Rog travelled across the border, like her directorial debut Paap did last year, to premiere at the Kara Film Festival in Karachi.
Away from Bollywood, a no-budget film, Sandeep Sawant's Shwaas ended a 50-year drought for Marathi cinema by bagging the Best Film National Award. It was subsequently selected as India's official entry for the Oscar in the Best Foreign Language Film category, becoming the first-ever Marathi feature to earn the honour.
But life continued to be hard for non-mainstream Hindi films. Films that sought to break out of the formula mould, notably Sudhir Mishra's Chameli, Govind Nihalani's Dev, Mani Ratnam's Yuva and Revathy's Phir Milenge paid the price for not pandering beyond a point to popular tastes. However, the year-end release of Swades, directed by Ashutosh Gowariker and starring the one and only Shah Rukh Khan, raised hopes of a resurgence of meaningful cinema.
Bollywood rebel Ram Gopal Varma, who has an avowed aversion to sugary NRI romances and fluffy feel-good musicals, struggled in 2004. With Hum Tum, Main Hoon Na, Mujhse Shaadi Karogi and Veer-Zaara holding sway, there seemed to be no room in this market for films that sought to go beyond the margins of mere masala entertainment.
Virtually each one of the five films that emerged from the RGV Factory during the year — Ek Hasina Thi, Ab Tak Chappan, Gayab, Vaastu Shastra and Naach — fell well short of their goals in the face of competition from more crowd-pleasing fare.
Naach not only failed commercially, critics mercilessly panned it. Antara Mali's outfits were strange all right, but in purely cinematic terms, the film must rank among the most daring Bollywood films of the year. Masterly editing, a superb sound design and innovative camerawork made the Abhishek Bachchan-Antara Mali-Ritesh Deshmukh starrer a treat to watch, not the least because of its completely believable, real, tangible characters.
The character played by Antara Mali, an aspiring choreographer determined to make it on her own steam, is unlike any woman seen in popular Hindi movies. She has the world literally at her feet — the camera often views her from a low angle to suggest that she is a figure worth looking up to. Never before in the annals of Hindi cinema has this sort of daring been shown by a filmmaker in the depiction of the man-woman relationship.
While Shah Rukh Khan ruled the roost and Abhishek Bachchan made steady progress, Rani Mukherjee, Kareena Kapoor and Preity Zinta were the female actors who made appreciable gains. In 2004, Preity had Yash Chopra's Veer-Zaara in her kitty, but Rani, despite a minuscule role in the film, once again demonstrated exactly why she is regarded as the most talented actress of her generation.
After Saathiya in 2002 and Chalte Chalte in 2003, Rani delivered Hum Tum in 2004. The turning point of Rani's ascent was of course her stunning performance as a lower middle Bengali girl married to a small-time goon in Mani Ratnam's experimental Yuva.
Kareena, too, was in fine fettle during the year. She delivered two box-office hits — Hulchul and Aitraaz. But, more important, she established herself as a versatile screen performer in 2004. She showed sparks of brilliance in Govind Nihalani's Dev, Sudhir Mishra's Chameli and Ken Ghosh's Fida, which saw her playing a role with negative shades.
The year was particularly dreadful for India's English-language filmmakers. The US-returned Nagesh Kukunoor, a man who, thanks to the dramatic commercial success of Hyderabad Blues, had in the 1990s triggered a veritable avalanche of low-budget films about the peccadilloes of urban, English-speaking Indians, failed to make the same sort of impact with the sequel, Rearranged Marriage.
Two films of infinitely better quality, Pamela Rooks' Dance Like a Man, based on a play by Mahesh Dattani, and Morning Raga, directed by the aforementioned playwright himself and buoyed by a remarkable Shabana Azmi performance, did not exactly set the multiplexes aflutter.
In 2004, sheer entertainment was the buzzword. Any film that attempted to probe issues of social relevance was summarily dismissed by the masses. Despite the slew of mega hits that Bollywood notched up, the year was an utterly forgettable year.