flashback 2004

Television
Small screen's Big



The postal department issued a special cover in the honour of Jassi, the bespectacled princess of prime time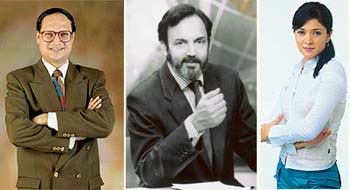 (L)Rajat Sharma's India TV called for responsible journalism (C) NDTV's Prannoy Roy remained dedicated to the business of news and (R) Star One's young look attracted viewers
Indian television grew at a never-before pace. Several new channels, soaps and reality bytes mushroomed. Never before had the small screen offered such variety to the viewer in entertainment, education and information, writes Gyan Marwah
For a medium that has matured so rapidly, the year 2004 was to prove bumpy. The old bowed out to the new even as an era of fierce competition set in as channels vied for viewer attention with newer and more innovative content.
Never before has the Indian television witnessed such a proliferation of programmes as it did in 2004. What started as a trickle rapidly turned into a cascade. Channels spoilt viewers for choices offering a plethora of soaps, serials, sitcoms, music and chat shows and reality bytes.
The most popular serials just at the start of the year were going out of reckoning even as newer programming threatened to drive them out of contention. An increasing number of viewers were getting tired of the squabbling saas-bahus and channels seemed to be in a tearing hurry to cash in on the newfound craze for reality television. Audiences just loved the highs and lows, the ecstasy and the angst of wannabe singers who came to try their luck in thousands.
So even if you missed your date with Farah, Anu and Sonu on the Indian Idol on Sony TV, you could again put your vocal chords to test at Channel V's talent hunt show titled Super Singer. The reality show — Star's third after Popstars and Get Gorgeous — had the right ingredients of becoming a hit. And if you were among the 25,000 aspirants, this was your chance of becoming a big singer like Adnan Sami — that is, 'big' in the singing sense.
Though Sony Entertainment Television pulled back viewers with Indian Idol in the last months of the year, it was clearly struggling to grab attention earlier. The channel that was riding the crest earlier with hits like Jassi Jaisi Koi Nahin, Yeh Meri Life Hai and Aayushman was losing out in the race to the spanking new Star One from the Star TV stable.
Jassi that had fans mesmerised was clearly sinking thanks to the meandering storyline that was going nowhere. The serial, which had so audaciously cocked a snook at the 'K' supremacy, began witnessing a sharp fall in its popular ratings.
To make matters worse Yeh Meri Life Hai and Hum 2 Hain Na were not rocking anymore and the channel seemed to be in more trouble with Cinevistaas changing the popular lead star in Aayushman and putting the future of the Indian version of Doogie Howser in jeopardy.
Fast forward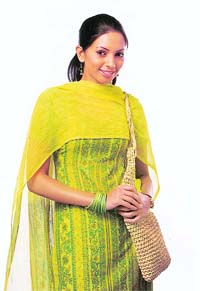 Serials like Yeh Meri Life Hai and Hum 2 Hain Na on Sony failed to click
If Sony was struggling Star TV was faring no better. Viewers were clearly getting tired of the saas-bahu fare. Frequent fast-forwards hardly helped. They not just alienated viewers but also saw lead stars walking out refusing to do elderly roles.
Amar Upadhyaya abandoned Kyunki Saas Bhi Kabhi Bahu Thi as the serial was pushed ahead by 20 years and he had no intention of aging so fast. Mouli Ganguly dumped Kaahin Kissi Roz, Nausheen Sardar Ali left Kkusum, Shweta Keswani deserted Desh Main Nikala Hoga Chand and Kahani Ghar Ghar Ki. Jividha opted out of Tum Bin Jaun Kahan and Zameen Se Aasman Tak.
Unlike people like Smriti Malhotra Irani who became virtual wallflowers in soaps, the new age stars refused to do the 'fiftiesh' roles. And their logic was simple. Shweta said, "there's enough time left for me to play older roles. If I start playing mom now, what will I do when I come to the age of playing a mother." Sound logic, that.
But if the fortunes of Star Plus were dwindling, the year saw Star TV spreading its supremacy with the introduction of another entertainment channel — Star One that instantly caught the fancy of viewers. Innovative shows like Cook Na Kaho, Body & Soul, Sarabhai Vs Sarabhai and Studio One that aired movies like Bali — the latest in alternate cinema.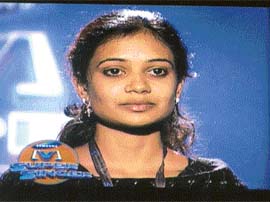 Contests like Indian Idol, Super Singer kept the youth swaying
Sahara Manoranjan too put out a new face renaming itself as Sahara One. It promised a slicker fare to viewers who were getting tired of shows like Karishma — The Miracle of Destiny, Sahib Biwi Ghulam and Malini Iyer. The idea of re-branding was to bring Sahara's four businesses — television, film, radio and special projects — under the Sahara One umbrella.
Though the going wasn't good for the channel, there was one area where it was succeeding. Sahara Manoranjan like Zee TV entered the realm of film production. It produced Sheen on the pain and agony of victims of terrorism and also collaborated with Ram Gopal Verma's Ab Tak Chhappan. As the year was coming to a close, the company had commissioned around 15 more film projects.
If Sahara Manoranjan was having a bumpy ride, Zee TV too continued to be plagued with the problem of poor viewership. The trouble was not just poor programming but the channel's insistence on clinging to old and outdated concepts like Antakshri.
But in the later half of the year the channel went on an overdrive to refurbish its image and get back in the TRP reckoning. There was talk of bidding adieu to tired old shows like Kitty Party and Tammana House even as the channel began concentrating on beefing up its late evening prime time slot with shows like Kareena Kareena, Urja and Lavanya.
Business bonus
Zee was in the news for other reasons as well. Its new Hindi business channel launched in November was a big hit. Positioned as a personal finance channel, it offered business news in a clutter-free style and in an easy-to-understand language. Its instant popularity prompted NDTV and CNBC TV18 to announce plans to have dedicated Hindi business channels.
After the unequivocal success of 9-4 Business & News, Prannoy Roy decided to plunge the whole hog into the business news space with both a Hindi and an English channel dedicated to business, finance and stocks.
News channels were in the news with each vying with the other in providing groundbreaking stories 'on the hour, every hour', as BBC World puts it. Most observers said the war among news channels had just begun. Leading the race were NDTV and Aaj Tak. Global media conglomerates CNN International and BBC World were fast building their own niche viewership.
Rajat Sharma launched India TV, a 24-hour news channel, claiming that he would set new benchmarks in responsible journalism. NDTV was going strong though Aaj Tak the Sabse Tez Channel seemed to have slowed down a bit and Star News and Zee News too weren't happening.
DD on downhill drive
The year was not an impressive one for Doordarshan. A little over a decade ago the channel's numero uno position was unassailable especially where news was concerned. As the year ended, it was nowhere in the picture.
In 2003, the money-spinning DD-Metro was scrapped and replaced with a 24-hour news channel.
The channel was headed by Deepak Chaurasia who picked up telegenic anchors from other news channels. But despite the professional team, DD-News started its downhill drive right from its inception slipping to the fifth slot.
Crossing the barriers
India and Pakistan extended a hand of friendship where serials and films were concerned. The trend started with music and then moved on to films. As the year rolled by, the small screen looked all set to be invaded by Pakistan.
Serial makers from across the border were eyeing the Indian small screen, something that Pakistani cricketer-turned-actor Mohsin Khan tested unsuccessfully years ago in Batwara.
Sakshi Tanwar and Aman Varma signed on an Indo-Pak venture Kucch Rishtey Kachche Dhaagon Ke. The serial revolves around the story of a man who is married to two women, an Indian Muslim and a Pakistani Muslim. The story deals with the increasing friction between the two wives and their respective kids.
Anu Kapoor, the anchor of Antakshri, started hosting a new music show Gayegi Duniya Geet Mere, a mix of Indian and Pakistani songs. This made-in-Dubai show has become a huge hit in Pakistan.
Leading Pakistan actor Humayun Saeed, dubbed as the Shah Rukh Khan of Pakistan TV, launched his show Aan: The Ego featuring well-known names from both countries. The serial marked the return of Nausheen Ali Sardar and also starred Parikshit Sahani and Kunika Sadanand Lall from India and Humayun Saeed, Talat Hussain and Samina Peerzada from Pakistan.
Interestingly, Saeed has selected a male-dominated subject for viewers on both sides of the border. Based on a true story, Ana is about egos that divide people.
Says Saeed, "There's a special message for both Indians and Pakistanis. I hope such themes and joint ventures will help bring us closer." Even as the year is passing into history, television has seen momentous changes — new channels, viewers and even newer programming. That is because never before had the small screen offered such variety to the viewer. What was just a onechannel affair in the last elections has today assumed the proportions of a hydraheaded wonder with more and more new entrants entering the fray. Television was finally settling in its vital role as a medium of entertainment, education and information.
— NF