Chandigarh, India

January 3-7, 2004
A TRIBUNE SUPPLEMENT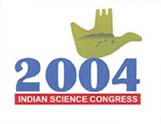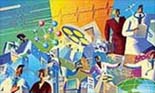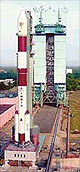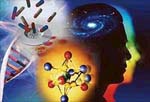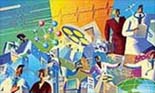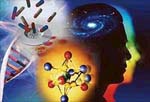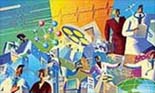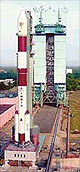 The Tribune takes you to the 91st session of the Indian Science Congress (January 3-7 in Chandigarh), presenting in chronological order the events as these unfold. Click on any link for a glimpse of what the future has in store for science in India.



JANUARY 9, 2004
DRDO develops special ration
Chandigarh, January 9
The Defence Research and Development Organisation has developed special ration packs for tank crew, which are convenient to use while on manoeuvres. These packs have been developed so that troops in the field are able to prepare nutritious meals from ready-to-eat or ready-to-cook ingredients in the shortest possible time.



JANUARY 8, 2004
India set to create 'i-grid complex'
Chandigarh, January 7
After developing a super computer, India is now working on creating an "i-grid complex" which will make the services of the super computer available in different parts of the country.
JANUARY 7, 2004
Science Congress not a mela, say scientists
Chandigarh, January 6
Seminar halls are nearly empty while delegates bask in the weak sunshine on the lush green lawns outside on chilly days or go sightseeing with their families in the City Beautiful. This has provoked many to question the usefulness of big events like the 91st annual session of the Indian Science Congress currently underway at Chandigarh.
JANUARY 6, 2004
Kalam calls on scientists to achieve mission 2020
Chandigarh January 5
The President of India, Dr A.P.J. Abdul Kalam, today asked the nation's scientific community to start working for the realisation of his vision to transform India into a developed nation by 2020.
Expert cautions on promotion of biotechnology
Chandigarh, January 5
While the UT Administration is making attempts to attract investors in the bio-technology sector, Dr Krishna R. Dronamraju, Adviser to the US Secretary of Agriculture and President of the Foundation for Genetic Research, has warned against the indiscriminate promotion of bio-technology in the region.
Curiosity core quality of scientist, says Nobel laureate
Mohali, January 5
''Scientists are like young children who always want to know how things work.'' This is how simply, Dr Hartmut Michel, German biochemist and Nobel laureate, described the core quality of a scientist. Dr Michel along with Johann Deisenhofer and Robert Huber received the Nobel Prize for chemistry in 1988 for their determination of the structure of certain proteins that are essential for photosynthesis.
JANUARY 5, 2004
Punjab varsities lag in scientific research
Chandigarh, January 4
None of the universities in Punjab is among the top 20 in the country as far as the total output of research publications in all disciplines is concerned.


Editorial: Science mela

Study finds rice, fish fight malaria
Chandigarh, January 4
Presence of fish in water bodies and rice crop in the fields has been found to fight malaria. Tried and tested in a number of villages all over the country, these findings were presented by Dr VP Sharma, Additional DG, Indian Council of Medical Research, New Delhi, at the GP Chatterjee Memorial Award Lecture organised on the second day of the Indian Science Congress at Panjab University, here today.

Young scientists of India, USA to interact


Chandigarh, January 4
Forty young American scientists will visit India later this year to work with young Indian scientists below 45 years under a new Indo-US programme to promote closer ties between the scientific communities of the two countries.

Merit-based system can help build scientific temper


Chandigarh, January 4
Elite classes in the developing world feel threatened by the development of scientific temper and values among the people especially the poor classes, as it would hurt their political and economic interests.

AIDS virus may help fight cancer


Chandigarh, January 4
The much-feared AIDS disease may soon help mankind fight other diseases like cancer, Alzheimer's and brain disorder. With the help of biotechnology, scientists are making efforts to inject certain genes along with non-fatal AIDS viruses that would fight cancerous cells.




JANUARY 4, 2004

Science Congress focuses on biotechnology
Chandigarh, January 3
Biotechnology, youth and women occupied centre-stage at the inaugural session of the 91st Indian Science Congress which began at Panjab University, here today, as speakers reiterated their commitment to the Prime Minister's slogan of 'Jai Vigyan' to propel the country towards success in all spheres of life and create an India that leads and not follows.

Scientists called upon to create new paradigm
Courage needed to apply correctives, says Joshi
Chandigarh, January 3
Dr Murli Manohar Joshi, Union Minister for Human Resource and Development, Science and Technology, today called upon the Indian scientists to provide a balanced approach, a harmonisation of the differences by presenting the "holistic" view in which life and its problems were understood in their totality.

Impressive display of innovative exhibits
Chandigarh, January 3
Innovative exhibits displaying the fruit of an inquisitive laboratory journey of children in various arena of science and technology are the hallmark of the exhibition 'Science for schoolchildren' as a part of the ongoing Science Congress at the Institute of Microbial Technology.




JANUARY 3, 2004

3,500 delegates in city for science congress
Chandigarh, January 2
The rush of delegates, the scramble for accommodation and the last minute hassles of identity cards dominated the day at Panjab University here today. . A day before the Indian Science Congress got under way, the focus of the organisers shifted from preparations to making the delegates feel at home even as the sun played truant and the chill continued to bite.