AUDIOSCAN
Morning Raga (Music Today)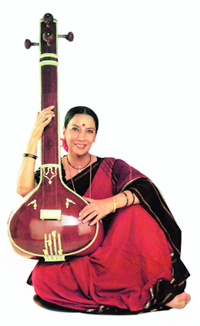 Film music is changing by leaps and bounds. Had it not been for the photograph of Shabana Azmi on the cover, I would have never even imagined that it is a film soundtrack, considering that most of the songs are typical Carnatic classical renditions which have been given a jazzy, world music feel.
The scores draw from the Vedas as well. In fact, such dynamic fusion of the traditional and the modern has hardly been tried even in non-film efforts.
The cast of the film includes Shabana Azmi, Perizaad Zorabian and Prakash Kovelamudi. The story, screenplay and direction of the film, which was shown at the recent international film festival, are by Mahesh Dattani. Legendary composers like Muthuswamy Dikshitar, Muthiah Bhagavatar and Sadasiva Brahmendra have lent their names to the unusual venture. The music has been scored by Amit Hari and Mani Sharma.
The singers include luminaries like Sudha Ragunathan, Bombay Jayshri and E. Gayathri. Some of the best musicians of the country have contributed to the sound track, including Kanjira maestro Selva Ganesh, Ranjit Barot and Keith Peters.
Bewafaa (Tips)
Boney Kapoor sure knows how to draw the best out of his music directors. Nadeem Shravan have come out with a crackling score for this Dharmesh Darshan-directed film.
The central spotlight is on Lata Mangeshkar's Kaise piya se main ye kahoon… which has her singing as fabulously as she did as a teenager. And she is not the only one defying age here. Sis Asha Bhonsle also revives the old magic in fun and frolicking Kehta hai kabutar.
To cap it all, there is Ghulam Ali with Teri yaad … yaad …yaad …. packed with pathos.
The lyrics are by Sameer. —ASC