New brave world

Meet these bravehearts. They are strong in spirit and mind. They have beaten physical challenges to emerge winners. When the world told them to bury their hopes and be apologetic for what they were, they chose instead to smilingly demonstrate their abilities and talents. Their award-winning efforts in various fields from art and culture to information technology and from accounts to sports, have proved that they have left little unexplored and there are no goals they cannot achieve. Shunning the path of self-pity, they have embarked on a journey to fulfil their aspirations. They have dared to dream and worked towards their dreams. They have chosen to live their lives with dignity and courage. Life has dealt them a hand that might seem less than fair but they have come up trumps. They have proved that they have special abilities in spite of the world calling them "people with disabilities".

Gaurav Sood meets 12-year-old Janarthanan, who has triumphed over amputations to excel in painting; Sunita Dogra, who has not let her spinal deformity come in the way of her love for music; polio-affected Rajinder Singh Rahelu, whose weight-lifting feats have earned him the title of Strongest Man of India; and others who are a source of strength and inspiration to all.

Drawing on courage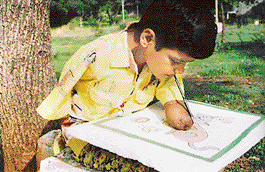 On March 4, 2000, the day dawned as usual but not for this mischievous 8-year-old boy who was playing with his friends on the terrace. Fascinated by an iron rod, seven feet in length, little Janarthanan tried to rotate it like a cinema hero. Suddenly, it came into contact with a high-tension line that was passing adjacent to the terrace. The electric current ran through the boy's body and the transformer nearby burst into flames with a huge bang. The neighbours ran to the terrace and to their dismay saw Janarthanan half burnt. He was rushed to a nearby hospital for treatment and his parents spent nearly Rs.1.5 lakh within a week. Unable to bear the medical expenses, the boy was given treatment at the Government Stanley Hospital, Chennai. Ultimately, the burnt organs had to be removed from his body and his right arm was amputated till his shoulders, and left arm till the elbow. They also amputated his left leg till the knee and the toe from his right leg.
After six months of treatment and motivation, Janarthanan began to practise walking, bearing much pain. But the boy bravely withstood the pain recollecting the untold difficulties and mental agony his parents had undergone to save his life. Besides learning how to walk, he began to practise writing. Jana's father had a printing press that he sold off for his son's treatment, which took nearly Rs 4 lakh. Jana used to practise writing numerals in a notebook, with his mouth. One day, he saw his mother drawing small flowers on his notebook. He wanted to draw them as well. That was the starting point of Jana's unbelievable mouth painting skill.
Jana says, "I worked hard with full confidence and would stay up late till night. Now, I am perfect in writing with the help of my mouth and also drawing with ease." He adds, "Today I am talking to you cheerfully as an artist, and all the credit for that goes to my parents and Dr Seeniraj, who motivated me to reach this level."
Janarthanan was honoured with the National Award for being the best creative child with disability, 2004.
Defying dystrophy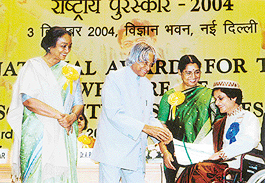 A brief interaction with Sanjana Goyal, as she stands and spontaneously answers queries relating to the use of colour, embroidery and intricate patterns at her busy Stitch and Style boutique in Solan impresses one, as does her dexterity in designing outfits. A closer look makes one realise that while she adroitly uses her hands to carry on with her day's work, it's only the upper portion of her body which she is able to move. Afflicted with muscular dystrophy (MD), she cannot move the rest of her body.
She has not allowed the disability to impair her progress either professionally or personally. Exuding confidence, she says, " My mother never differentiated against me. She expected me do tend to household chores like any normal child. While this gave me the confidence to stand on my own, I never felt I lacked anything." It is this grit, mental strength and spirit to work which has kept her going. Her efforts got rewarded when she was chosen by the Ministry of Social Justice and Empowerment for a National Award for her outstanding work as President of the Indian Association of Muscular Dystrophy. She joined the association in 1992 and this has enabled her to interact with others similarly afflicted. Her activities comprise organising camps, providing counselling to the patients and their families, patient mobilisation from rural and remote areas to access existing government healthcare. The association inspires others to take up pioneering work and collaborates with the government to provide healthcare and diagnosis.
Two other members of her family suffer from MD. Sanjana grew up drawing inspiration from her family. A postgraduate in home science, she believes that it is a support group which a MD patient requires more than anything else. Her message to the others is a terse one-liner, " We need your help not sympathy".
With no known cure, MD patients get little relief from the medical fraternity. Desperate patients, compelled by social pressures, often visit quacks and sadhus for a miraculous cure. A progressive, degenerative disease whose delayed onset often causes mental trauma, it is caused by the mutation of genes. A debilitating disease, it leads to loss of independence, something that affects the patient the most, reveals Sanjana. Recalling her daily routine she says, it is a Herculean task to dress up daily and takes almost an hour. While rueing the lack of support system available to MD patients, Sanjana feels the disease has not got the same attention as AIDS or cancer.
What strengthens her resolve to work for these patients is that many patients are still beyond the purview of proper healthcare due to ignorance or poverty. Creating a broad base for people with disabilities is her mission now. With little support system available locally, patients from as far as South India have been approaching the association for help reveals Sanjana. Setting up local chapters and creating a mass awareness is Sanjana's goal.
— Ambika Sharma reports from Solan
Write to live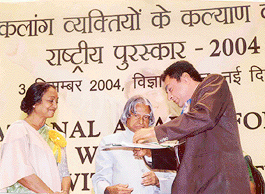 Bhupesh Kumar Chatta's life has been all about triumph of the human spirit. Nobody can see his 100 percent disability which is hidden behind loud laughter. Bhupesh, who belongs to Patiala, had both his arms amputated below the elbow in 1994 after an accident.
Laughing loudly, he recalls that it was very difficult to expect the reality then because the only person he had seen without arms was Sanjeev Kumar in the film Sholay. He says that he tried to end his life but fate had something else for him. Today he is working as a journalist with a national newspaper and leads a full life which includes driving his car, filing news reports, attending press conferences and relishing roasted chickens with drinks in the evening, all with his artificial hands.
A double postgraduate, Bhupesh feels that he has learnt that the best way to live life is to accept the truth and face it. Other than having scores of reports and stories published beneath his byline, Bhupesh has also helped many disabled get benefits from government and non-government projects. Bhupesh was awarded the National Award in the role model category.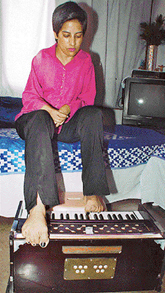 Notes of triumph

Selected for the National Award in the role model category, Sunita Dogra, a music teacher from Chandigarh, was born with dysfunctional upper limbs and a deformed spinal cord, medically termed as bilateral hypoplasia of the upper limbs, combined with scoliosis (spinal deformity).
Sunita has climbed the rope of success with her feet instead of her hands. Living a bleak life with no to friends to speak of, she considers this National Award as the beginning of a brighter phase of her life. Walking on this painful path, Sunita began to use her lower limbs for writing and playing the keyboard and harmonium. She also does all the daily chores without complaining. Sunita says while studying at Government College for Girls, Chandigarh, she was not allowed to play musical instruments with her feet. After borrowing money, she bought herself a harmonium. She has also done a course in computer education. Sunita is also the vice-president of Physically Handicapped Association of Punjab.
A different vision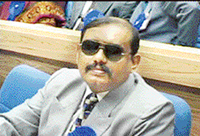 Harish Kumar Kotian of Hyderabad met with a firecracker accident at the age of 14 and became totally blind After undergoing rehabilitation programmes, he resumed studies, joined the Reserve Bank of India as telephone operator and is at present working as a manager there. While working with the RBI, he did postgraduation in political science and got a degree in business management and software development. Harish also loves mountaineering and was a member of the first Mountaineering Expedition for disabled persons to Kshitidar peak, Manali, at a height of about 17200 feet.
Expressing his faith in computers, Harish says, "Computers are the best thing that happened to the blind after Braille. It gives them access to all information that can be available to the blind." However, he feels, many find their knowledge going waste because their employers do not provide them the opportunity to work new software. Cutting a different path, Harish got his Win Eyes installed himself and, he says, he will soon install Bharati Braille to enable him to write in Devanagiri.
Harish was awarded the National Award for Best Employee, 2004.
Strongman of India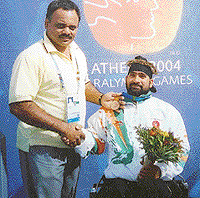 Declared the "Strongest man of India" in 2003, six-time winner of gold medal in national weightlifting championships and winner of a bronze medal in Paralympics, 2004, is polio-affected Rajinder Singh Rahelu of Jalandhar.
Rajinder, who was debilitated by this ailment in his early childhood, has exhibited tremendous courage and determination all through his life. His performance in power-lifting has been highly recognised despite the fact that he cannot stand on his legs and moves on a wheelchair. He is an inspiration to all those striving to overcome formidable disabilities. Rajinder Singh was awarded Special Commendation at the National Award for welfare persons with disabilities, 2004. His home state Punjab, however, hasn't yet honoured him. Rajinder is also a national record holder in his respective sport.