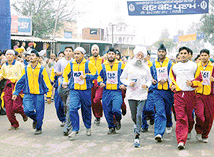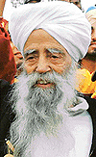 Running against time
Prabhjot Singh
Baba Fauja Singh is a living legend. Adorning billboards in cities like London, Toronto and New York, he has proved that "Impossible is nothing". Defying age, the 93-year-old has smashed several world records and entered the Guinness Book of Records as the world's oldest and fastest 90-plus marathoner.

93-year-old Fauja Singh ran in the Chamkaur Sahib marathon recently. — Photos: Pradeep Tewari and PTI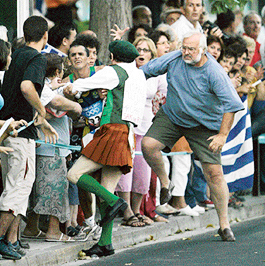 Celebrities by accident
Brian Homewood
Brazilian sporting heroes Ronaldo, Ronaldinho and Kaka are being forced to share the limelight with previously little-known marathon runner Vanderlei de Lima and a retired amateur Greek basketball player.


Retired Greek basketball player Polyvios Kossivas (R) stepped in to rescue Brazilian marathon runner Vanderlei de Lima from the clutches of former Irish priest Cornelius Horan during the Athens Olympics. Both Kossivas and De Lima have become celebrities, with the latter being voted Brazil's sportsman of 2004. — Photo by Reuters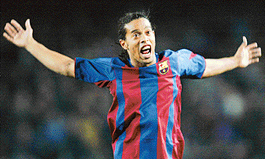 IN THE NEWS
Star striker
Vikramdeep Johal
He is one of the most lethal strikers in football today. Whether playing for Brazil or Barcelona, he has hardly put a foot wrong in recent months. No wonder FIFA named Ronaldo Assis de Moreira, better known as Ronaldinho, the world player of the year.
The resurrection man

K.R.Wadhwaney
He was as solid a 'wall' in front of the stumps as Rahul Dravid is today. Despite an unorthodox style, Vijay Samuel Hazare played several heroic innings. His batting was governed by three 'Ds' — dedication, determination and discipline.

Vijay Hazare died on December 18