PUNJAB

HARYANA

JAMMU & KASHMIR

HIMACHAL

REGIONAL BRIEFS

NATION

OPINIONS

MAILBAG

BUSINESS

SPORTS

WORLD

Sunday, January 2, 2005, Chandigarh, India
Updated at 3:00 am (IST)
Beaches vanish in Campbell Bay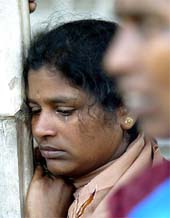 Port Blair, January 1
A sober New Year's Day in Port Blair saw the IRC constituted by the Government of India take effect, with Lt-Gen B.S. Thakur, Commander-in-Chief (C-in-C) of the Andaman and Nicobar Command, taking charge of the relief efforts as the Operational Head of the Command.

A survivor weeps near her damaged house hit by Sunday's tsunami in Nagapattinam, 350 km south of Chennai, on Saturday. — Reuters photo


CAST YOUR VOTE
Should the EC punish the Haryana govt for declaring civil services exam results?


FORUM

EDUCATION

JOBS & CAREERS

HEALTH & FITNESS

SCIENCE & TECHNOLOGY

SPORTS

SOCIETY

TRIBUNE CLASSIFIEDS

BRIDES WANTED

GROOMS WANTED

OTHERS

HOW TO PLACE ADVTS
Resettling orphans a problem as cheats appear
Chennai, January 1
While the overstressed Tamil Nadu Administration carried on its relief work among the tsunami victims for the sixth day, it is now faced with the problem of looking after orphans.



Focus now on streamlining relief


BJP to question UPA on relief operations


Nation page: Nicobarese suffer major losses
4,000 troops join biggest peace-time operation
New Delhi, January 1
The colossal effort put by the three wings of the Indian armed forces has in fact become the biggest peace-time operation undertaken by them to carry out relief, rescue and search operations in tsunami-hit South-East Asia.


In video (28k, 56k)
In Society today
THE TRIBUNE MAGAZINES
On Sundays

On Saturdays


Logistics panel planned for Andamans
New Delhi, January 1
The Centre today decided to set up an integrated logistics committee for the tsunami-hit Andaman and Nicobar Islands and send central teams to other affected states on January 4 to assess requirements for relief and rehabilitation work.


India, Pak exchange lists of N-installations
New Delhi, January 1
India and Pakistan today exchanged lists of nuclear installations and facilities, a practice which the two nuclear rivals have adhered to for the 14th consecutive year.


White New Year in Kashmir Valley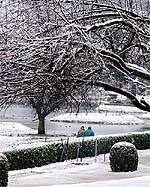 Shimla/Srinagar, January 1
Severe cold wave tightened its grip over the North on Saturday. Srinagar in Jammu and Kashmir and its adjoining areas and higher reaches of Himachal had fresh snow today.


In video (28k, 56k)

A view of snowfall in Srinagar on Saturday, the first day of 2005, which commenced in Jammu and Kashmir covering most parts of the valley with a white blanket. — PTI photo

Aftershocks push up water level
January 1, 2005

Fresh alert triggers panic
December 31, 2004

54 shocks rock Andamans
December 30, 2004

Over 11,500 dead in India
December 29, 2004

Tsunami devours 9,000 in south coast
December 28, 2004

3,300 die as tidal waves hit southern coast
December 27, 2004

George caught in code of conduct net
December 26, 2004
Over 30 FIRs for code violation in Bihar
December 25, 2004

PMO's letter to CBI leads to furore in Parliament
December 24, 2004

Zaheera was paid Rs 18 lakh by BJP MLA: Tehelka
December 23, 2004

PM rules out redrawing of boundaries
December 22, 2004