Luring tourists, Singapore style
This tiny city-state is always in celebration mode. Syed Nooruzzaman captures the sights and sounds of Singapore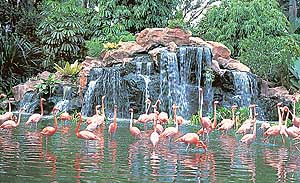 Singapore has something for everyone and a visit to the Jurong bird park is an exhilarating experience
Scan the Indian newspapers and you come across big colour advertisements luring people, of course, with money to spend in a tiny country. That is Singapore, a model of excellence in the East. The city-state is always in a celebration mode, but the situation is entirely different during the two closing months of the year — November and December. There is a party mania with dazzling lights all around.
Singapore's year-end festivals include Divali, the Hari Raya celebration by the Malay community and Christmas. Seeing is always believing, particularly at the Serangoon road for Divali and at Orchard Road and Marina Bay for Christmas. Beautifully decorated shopping malls entice people to buy as much as they can. The celebrations continue till January 2 in a uniquely Singaporean style.
There is no dearth of things of tourist interest in Singapore. But that is true of many other countries too. What distinguishes Singapore from the rest is that one does not have the fear of getting fleeced. Law-violators are dealt with sternly here. Its tropical climate with little change in weather helps visitors enjoy their stay to the maximum.
Singapore has emerged as a major country on the world's tourism map because it has some unique attractions like Jurong Bird Park, Night Safari, Underwater World, Snow City, the Sentosa beaches and the museums highlighting Asian civilisations.
The Bird Park, having 9,200 birds belonging to 610 species, is different from such homes of winged creatures anywhere on earth. It has the world's largest flight aviary and walk-in aviary, the biggest collection of South-East Asian birds and South-East Asian hornbills, the tallest man-made waterfall and the greatest variety of exotic birds.
Colourful tiny creatures presenting their shows in the lap of nature is a rare treat for the eyes. That is why the park draws over one million visitors every year. Many celebrate their marriage anniversaries with lovebirds flying overhead. Some prefer close encounters with butterflies, doves, mandarin ducks, flamingoes, etc.
How is wildlife after sunset? Those who want to see it with their own eyes visit Night Safari. There is an excellent arrangement to move around —- in an open vehicle driven at a slow speed —- and watch how the denizens of the wild pass their quiet night hours. Sometimes you get scared passing by a resting lion, cheetah or beer. But don't lose your breath. You are safe. There are fencings, though not visible during dark hours.
What is most surprising is that you don't find yourself a stranger wherever you go. This was a pleasant surprise for us, a group of journalists from India. Not that there is Little India, an area dominated by South Indians. The reason is entirely different —- the growing interest of Indians in Singapore.
It was 11 in the morning. We were at Singapore's Snow City, an artificial snow centre. Before I could go inside to revel in temperatures around minus five degrees celsius, I came across a couple frantically looking for a one-dollar coin (Singapore dollar) for hiring a locker. They talked in Hindustani to get their problem solved. They had come from Delhi for holidaying.
We were later told that every year a large number of Indians come to the city-state to spend a few days away from home. Indians, mostly from the southern states, are the fourth largest contributors in terms of tourism expenditure. They constitute the seventh largest group of visitors to Singapore.
The Punjab region is one of the major targets of the Singapore Tourism Board, particularly after the launch of Singapore Airlines flights from Amritsar. So far the board has been operating in India from Mumbai, but soon it will have an office in New Delhi and Chennai. The board is not depending entirely on Singapore Airlines to take care of the Indians planning holidaying in that tropical country. An arrangement has been finalised with Sahara Airlines, which may start its flights early next year. Discussions are on to get Indian Airlines flights too.
For tourists from anywhere November and December have special significance because of Christmas fever. Enjoying Christmas in the Tropics, as the Tourism Board advertises it, is truly a lifetime's experience. Its appeal is not limited to Christians. It is an occasion for everybody to make merry and, of course, do business. Every celebration in Singapore, as also elsewhere, has a business aspect to it. But celebrations are always welcome because they help in releasing tension, the most serious threat to health today.