Adieu Godzilla
It may be curtains for the monster that never let you forget the horrors of nuclear war. Ervell E. Menezes on the evergreen favourite facing extinction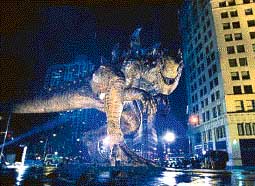 There have been 28 films on Godzilla
Will that Green monster Godzilla be finally trotting into the susnset ? If one goes by reports from Tokyo, the monster that terrified the world for 50 years, is threatening to call it a day. Is it because its boil-covered flesh calls to mind the victims of Hiroshima and Nagasaki ?
Maybe the Americans donít want to be reminded of the atrocities they commit on the rest of the world, especially in the light of their latest foray into Iraq. But will the Japanese be playing ball with them? Japanís largest film star has disappeared before ó-going into hibernation in the mid-1970s, only to come back with a vengeance thereafter, thanks to Toho films. There have been 28 films on it.
But sequels are very much part and parcel of the celluloid world and in that Hollywood seems to take the lead. It was in the 1970s that they became so popular, with The Godfather, The Exorcist and The Omen leading the way. This was because the film industry was in a crisis and the producers, who generally take no chances, wanted to cash in on the popularity of the titles.
But do we all not know that the sequels rarely come up to the level of the original film? There may be rare exceptions which can be counted on the fingers of one hand. As for remakes, they are synonymous with Hollywood. Daddy Longlegs was first made in 1931 and the remake was made in 1955 but the new one with Fred Astaire and Leslie Caron was considered more popular and, it is not surprising, what with the dancing wizard playing the lead role.
Superman came out in 1978 but in five years there were three films on that flying hero which sent Christopher Reeve zooming into instant stardom. In nine years, there were four Superman films. Sadly, Superman Reeve was struck with a riding accident and paralysed and ironically had to struggle for life itself before being liberated by death last year.
May the biggest gap between the parent film and its sequel was in the case of Psycho. It took 23 years to make its sequel but what a disaster it was. Even to think of making a sequel must have been a sort of sacrilege, for the original by that master of suspense Alfred Hitchcock was unbeatable. Psychology too was comparatively a new subject as was schizophrenia and all that contributed to its success. Richard Franklin may have been a Hitchcock admirer but why did he have to shoot it in broad daylight ? The third version by Anthony Perkins alias Norman Bates in 1986 was no better and it left one quite certain about the fact that some classics should never be touched again.
But no, films and commerce go together and the niceties of art go right out of the window when it comes to having an eye on the box-office. For me the best films of my youth were the Tarzan adventures. They were not called sequels or remakes, just adventures and they say that there were 33 Tarzana films in all. I particularly remember Tarzanís Secret Treasure and Tarzanís New York Adventure and Johnny Weismuller in the lead role was unbeatable. Like Sean Connery in the Bond films. Then came Lex Barker and Gordon Scott but for me Tarzan was Johnny Weismuller. Why canít they just have different anecdotes centred on any given hero? But then there would be no hype like will there be ? Will there not be? And that give so much more scope for the publicists. Also, suspense for the fans. Exit Godzilla?