Understanding the Universe
With Prof Yash Pal
What do you think would be the consequences of so much emphasis on software development in India, and an absolute neglect of fundamental research?
Software development is a laudable pursuit. The purpose of developing any software is to use it along with hardware to achieve an objective. Much software is designed to make hardware more potent, useful and productive. The productive purposes are primarily determined by those who are in the driving seat. Most such entities are users, producers or peddlers of hardware. Therefore, I am convinced that ascendance of software alone cannot be a permanent feature in any self-respecting economy. We also find that there is a great temptation for pushing our bright people into the labor market of low-grade software because our people can work for less money than those of the industrialised countries. In addition, a lot of our young people are being engaged in information technology enabled services (call centres and the like), mostly for people of the advanced countries. I suppose this is all right for the purpose of giving clerical jobs to some of our young people, but this should certainly not be categorised as knowledge work. Yes, we should be developing software, but more and more of it should be "high-end". It should be for doing new things, designing new systems and creating new technology, including technology that would be most needed by our own a country. And we should not make even such high-grade activity an excuse for neglecting hardware design and manufacture. I am disturbed that of late, the manufacturing industry in India has been on decline. There's hardly anything that we have designed ourselves that is manufactured and marketed worldwide. Things that have been designed have not been picked up by our industry, which has got into the habit of riding on foreign brand names.
One aspect of the present attitude worries me even more, since I believe we are in danger of mortgaging our future. If all our bright students move away from science and engineering research, attracted by the lure of so-called software, followed by sales, finance and general management with a foreign or hyphenated Indian-Foreign company, there would not be an Indian identity left in tomorrow's world. Some might think that is a desirable direction to pursue. On my part, I would begin to question the need and relevance of the century-long enterprise that was our freedom struggle.
When I sit on a merry-go-round and then get off, why do I continue to experience the sensation of circular motion?
You have asked a simple question that hides some beautiful complexity. We seldom wonder about the marvelous mechanisms and methods that keep us functioning. The question you have asked is intimately connected to the mechanism that provides us with a sense of balance. Let me see if I can put across some understanding of the equipment that provides us with this capability without using specialised anatomical jargon. I will also avoid detail, partly because I am myself not so well educated in this area.
Inside both our ears there are three semicircular canals, oriented in three mutually perpendicular planes. These canals happen to be positioned at that location, but have little connection with the function of hearing itself. This location seems to have been chosen for its convenience — on two sides of the head and close enough to the communication lines of the central nervous system and the spinal routes that provide reflex action. Reducing this balancing system to a simple physical analogue, we could describe it the following way: The mutually perpendicular semicircular tubes are filled with a slightly viscous liquid. On the walls of the tube are a large number of tiny hair whose bending would alter a signal going to the nervous system, which controls the position of the head, pointing of the eyes etc. Let the tubes also contain a ball, or something with inertia that can move in the viscous fluid. Now rotate the head, say in a horizontal plane. The ball in the horizontal tubes would lag behind and would appear to move in a direction opposite to that of the head, or the canal. This would stimulate the hair by bending it backwards. Your sense of being on a merry go round would be derived from the signals originating therefrom. When the merry go round stops, the ball will keep going for a while, because of inertia, sending signals in the opposite direction, giving you a giddy feeling and upsetting your sense of balance. Remember that you have these tubes in three perpendicular directions. This would make you sensitive to disturbances in all the directions. With this simplified description, it should be possible to understand the experience of the kind you have mentioned or others, such as motion sickness or disorientation of astronauts during and after space flight. Apparently, the reason that some people (like me) suffer from vertigo is also due to the fact that my semicircular tube apparatus is partially faulty.
From a physical point of view, the basic elements seem to be the following: 1. Three semicircular tubes, oriented in mutually perpendicular directions to cover all kinds of head movement. 2. Two sets of these tubes, one on each side of the head, close to the inner ear 3. Some fluid in the tubes and large number of fine hair sticking in, whose disturbance produces or modulates signals and 4. A ball-like object, heavier than the liquid in which it is suspended, to provide relative motion with respect to the tube during acceleration and deceleration. The rest is just signal processing and moving apparatus like muscles and pivoted bone levers. The whole of this marvelous system is known as the "vestibular" system.
How do ants figure out where they have to go after they have collected food?
When ants move around, they can mark their path with an odorous substance — something that other ants (and they themselves) can smell. That is the reason why, on a food-acquiring mission, they travel purposely along the trail laid by their leader. That is also the way they find their way home. If someone gets lost, a random walk brings it across a trail and a way home. I am sure many other complex messages are exchanged as well, enabling the intense degree of cooperativity we observe in their behaviour. If you see a line of ants going someplace, you can try to see the effect of wiping out their trail with detergent. It would take them quite a while before the train begins to move again.

New products & discoveries
Listening for ET
THE SETI Institute predicts that we'll detect an extraterrestrial transmission within 20 years. If that turns out to be true, it'll probably be the folks at UC Berkeley's Hat Creek radio observatory who will have heard the call. Right now, the Allen Telescope Array of more than 300 dishes is under construction at Hat Creek five hours north of San Francisco. Within a year, the first 30 dishes will be operational, forming the basis of a giant ear that listens for intelligent beings in space while simultaneously gathering data for groundbreaking astronomy research.
Way to foretell quakes?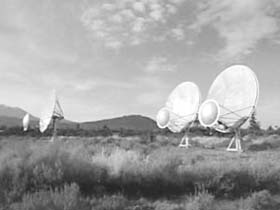 Three prototype radio dishes now in place at Hat Creek Observatory in northern California. By 2007, 350 of these 6.1-meter-diameter dishes will be assembled to form the Allen Telescope Array, the largest radio array in the world. (Photo: Radio Astronomy Laboratory)
Patterns of deep, prolonged tremors newly revealed beneath the San Andreas fault zone may offer scientists a way to foretell earthquake activity there.
The small tremors don't produce typical seismic vibrations that indicate a sudden slip along a fault, says Robert M. Nadeau, a seismologist at the University of California, Berkeley. Instead, the deep tremors gradually rumble to life. During a 3-year period that ended in December 2003, instruments detected 110 such events along a 30-kilometer-long stretch of fault centered just southeast of Cholame, in south-central California.
The tremor episodes, all of which were too weak to be felt by people, originated at depths of 20 to 40 km and lasted from 4 to 20 minutes, says Nadeau. In contrast, sudden slips along the San Andreas fault typically occur at depths of less than 13 km and last less than a minute.