Sen and sensibility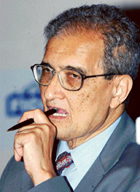 Nobel laureate Amartya Sen is no ivory tower intellectual. The eminent economist enjoys interaction and discussion with people across the board. A firm believer in Indiaís argumentative tradition, Sen engages with people and issues at a number of levels. Listening to Sen is an enriching experience as he interweaves narrative and facts and draws upon his vast experience as a teacher, writer and speaker. A.J. Philip recounts a Sen-sational experience in Kolkata.
A HUGE crowd had assembled at Nandan, the prestigious cinema complex on the Jagdish Chandra Bose Road in central Kolkata. Many of them had been standing in a serpentine queue to get an entry from early in the morning. An impatient West Bengal Finance Minister Asim Dasgupta was at the gate to receive us.

Eat like a beast to stay slim
From America comes the wild animal diet. And itís not as daft as it sounds. If you eat like a wild animal, say two American zoologists, you will be lean and healthy. Wild animals, according to Dr William Karest and Dr Fritz Walther, are rarely fat and lazy. They have to hunt for their food, and eat only when they are hungry.