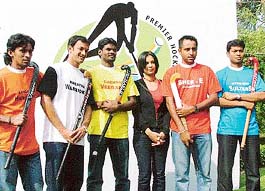 Promising, Hyped, Lucrative
The Premier Hockey League, billed as 'hockey in a new avatar', is all set to begin in Hyderabad, writes M.S. Unnikrishnan
The Premier Hockey League (PHL), promised by its creators to be "pleasing to the eyes and soothing to the senses", gets off the blocks at the Gachhibowli Stadium in Hyderabad on January 13.

Ready for turf wars: The five captains of Premier Hockey League Tier I teams (from left) Arjun Halappa (Bangalore Hi-Fliers), Viren Rasquinha (Maratha Warriors), Ignace Tirkey (Chennai Veerans), Gagan Ajit Singh (Sher-e-Jallandhar) and Dilip Tirkey (Hyderabad Sultans), with fashion designer Aparna Chandra. — Photo by Rajeev Tyagi

Strauss on song
Tony Lawrence
Two England cricket captains have had huge influences on Andrew Strauss's meteoric rise. Both, however, did so inadvertently. Indeed, had it not been for the one's bad knee and the another's bad call, Strauss, man of the match in the first Test win over South Africa recently, might conceivably not yet have played a single Test for England.

IN THE NEWS
From Russia with compassion


Vikramdeep Johal
Maria Sharapova knows how to win hearts in more ways than one. This time she did it not by dint of her superb tennis and smashing looks, but by her generosity and compassion. On her first visit to Thailand to play an exhibition match against Venus Williams, reigning Wimbledon champion Sharapova donated $ 10,000 for victims of the tsunami tragedy.