Familiar Bond
Aradhika Sekhon
Ruskin-Our Enduring Bond
by Ganesh Saili. Roli Books, Delhi. Pages 144. Rs 395.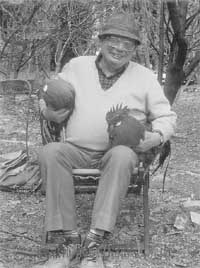 How do you write about someone who has already drawn on his life while writing his books? A writer who is also much written about, Ruskin Bond has a tremendous fan following and his readers would probably familiar with almost every episode narrated in this biography authored by Ganesh Saili.
However, Saili, who is a great friend of Bondís and has also co-authored several books with him like Mussorie and Landour: Days of Wine and Roses and Jewel in the Hills to name some, has put together the saga of a life well lived in an extremely readable book, though Bond has been pretty subjective in his writing and expressive about his philosophy of life.
Sailiís skill of his writing is evident from the fact that he does not detract from the simplicity and felicity of expression and tone that is usually associated with Bondís writing. Thus, even traumatic incidents like broken relationships and deaths are gently dealt with, without causing too much perturbation to the reader.
Saili and Bond have been friends for over three decades and it is the account of these times that actually communicates the essence of Bond. Small, personalised details of episodes ó of which the author was probably a part of ó re-introduce the Bond that we know. The first half, which deals with his childhood and foray to England, though well-researched, lacks that essential personal touch.
However, one can identify the much-loved-wanderer-on- the-hillside when he returns to Mussoorie, where he has settled with his adoptive family. The essential Bond, the self-declared "small pebble on the beach (not a big gun among writers) but a smooth, round, colourful pebble that someone will pick up, derive a little pleasure from holding and possibly put in his or her pocket", prevails in this section.
The later part of the book is thus a close-up chronicle of Bondís day-to-day activities, his home(s), his routine and his friends.
The simplicity of the man is highlighted in Sailiís affectionate biography of Bond who self-admittedly has been "writing to sustain the sort of life I like to leadóunhurried, even-paced, sensual, in step with the natural world, most at home with humble people." The man who has been able to pass through life simply because he has loved his art, "without being any manís slave or tyrant." Bond does not agree with Red Smith when he says that writing entails "sitting at your typewriter till little drops of blood appear on your forehead." He would rather get up and make himself a sandwich or go out among his plants at the first sign of blood or perspiration. For him, writing must be an enjoyable activity and if one is enjoying it then why must you perspire drops of blood?
It is Bond himself who has chosen the humility and simplicity that makes his life fulfilled. He has had his share of rough weather and managed to brave it with gentle, self-deprecating humour.
Bond is the third generation of his family in India from his fatherís side and the fourth from his motherís. Born in Kasauli in 1934, the young Ruskin moved from place to placeó from Sanawar to Jamnagar to Dehra Dun to boarding school in Mussoorie to Delhi and thereon to Shimla to school.
Ruskin was only 10 when his beloved father died but Aubrey Bond had already transmitted his passion for the hills to his son. His mother had been divorced from his father and had re-married.
At the age of 17, Bond set off towards England to realise his dream of becoming a writer. England was cold and unfriendly but it was here that he wrote The Room on the Roof, which won him the John Llewellyn Rhys award in 1957. However, he did not wait for the success of the book and as soon as he could collect enough money, boarded a ship back to India and thereon to his beloved Mussoorie, where he has remained ever since.
Today Bond is as fundamental to Mussoorie and Landour as the rocks and the trees on the hillside and equally permanent is the impact he has achieved for these places in his readersí hearts and minds.
The book is replete with a rich collection of photographs requisitioned from the family albums, which make it a visual delight.