Not quite a tsunami
Roopinder Singh
State of Fear
by Michael Crichton. HarperCollins. Pages 603. Rs 250.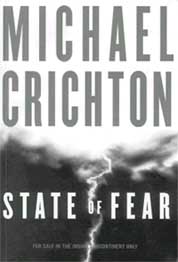 We all know that the weather patterns in the world are likely to change catastrophically if global warming is not arrested? Right? Well, not really. Crichton takes us on (for) a ride through the complex world of concerned citizens, some sound scientists, a loose collation of NGOs, which is feeding on a continued state of fear, that it helps generate through selective release of information, and at times, disinformation, masquerading as simplified knowledge.
This is a techno-thriller by the author of Jurassic Park. It is extensively documented, with two appendixes: Why Politicized Science is Dangerous and Sources of Data for Graphs, yet quite readable.
Just as the writer challenges many shibboleths, and beliefs, we may be pardoned if we don't agree with all that he says in 600-plus pages. The idea of a National Environmental Resource Fund, an environmental group planning to trigger a number of natural disasters (a huge hurricane and a giant tsunami included) and timing them to a press conference on global warming, is just a bit too much, and the way it is thwarted by a band of intrepid do-gooders, including a billionaire-complete with his secretary and lawyer-is a bit too thin and stretched even beyond the limits of some die-hard fans of this brilliant and prolific writer.


EXTRACT
To Evans, it seemed as if everything was happening in slow motion — the big waves churning white, boiling over the sand, and somehow keeping its crest all the way across the beach, and into the jungle, completely covering the green landscape in white as the water boiled up the slope toward them.
He couldn't take his eyes off it, because it seemed never to lose its power, but just kept coming. Farther down the muddy track the two men were scrambling away from their fallen jeep, and then they were covered in white water and gone from sight.7
Did I enjoy reading the book? I did, but I wished for more. environment shaken up? Yes. Was I convinced by the counter argument? No, yet it did leave me cogitating about the manipulation of information in modern society, and of how soon we swallow simplified statements that bear only passing resemblance to empirical data and detailed analysis, which often has many riders and can be distorted without them.
Readers will be grateful to Crichton for shaking up their beliefs and making them more cautious, even as they go on a journey that takes them to a tsunami-generating wave mechanics laboratory in Paris, the beautiful Solomon Islands and their cannibals, as well as well-healed "beautiful people" in Los Angeles.
In the story, the heroes save the day by taking off the edge of a man-made tsunami. For the readers, Crichton doesn't quite build up the swell to a level that is even half as menacing. He will pardon us if we, cautiously, don't quite swallow the whole tale.