Running small industry
Arvind Mehan
Managing India's Small Industrial Economy
by V. Padmanand and V.G. Patel. Response Books, New Delhi. Pages 203. Rs 240.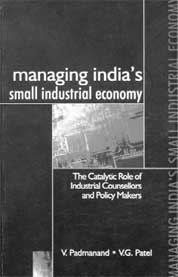 This is an in-depth and comprehensive guide to solving the problems faced by small and medium enterprises (SMEs) in today's fast changing business environment. As the authors have very aptly put it, innovation and being technically competent is one thing but a grim battle for survival in a global economy is quite another. Most of the small industry is able to sustain in niche markets. However, the cold wind of cost competition from overseas hits hard, especially in an era when shelters of protectionism and subsidies are gone.
At this juncture, small entrepreneurs need to have managerial vision and evolve a networking or cluster approach for input procurements, production and inventory control as well as product marketing and distribution. Advocating the intervention and role of industrial counsellors, the book presents a step-by-step roadmap to tackling market challenges through professional business planning and better decision-making though the management information systems, optimal inventory control and SME networking. It basically discusses about development of a sustainable competitive advantage. The mandate for the industrial counsellor is to upgrade business operations with a missionary zeal.
In the face of globalisation and opening up of the Indian economy, the book may enable readers to develop strategies to boost the competitiveness of their SMEs and exploit emerging business opportunities. It explains how every product has a lifecycle that involves developing market strategies to stay afloat. Then how to manage cash crisis in working capital by controlling current assets and current liabilities across various market segments depending on requirements of stocking up on raw materials or work-in-process or finished goods. It explains how break-even analysis helps study the inter-relationship between costs, output and profit (COP) of an enterprise and cost structure analysis helping the entrepreneur take "make" or "buy" decisions. What makes this book really engrossing is the continual interweaving of logical reasoning with analytical charts and understanding entrepreneurial perceptions in realising their true potential. It takes you to the inner depths of running a small industry, managing finances and how industry associations, policy makers and financial institutions can synergise and help revitalise this very important sector of the Indian economy. The case studies of some SME's in the textile sector, chemicals as well as machine tools are an eye-opener and serve to guide the reader in order to avoid the pitfalls and mistakes made by the units.
The concepts vividly relating to technology upgradation, quality and cost competitiveness, networking and consortium approach amongst different enterprises have universal applicability and cut across sectoral boundaries. The dynamics and uncertainties of the market environment in which the small-scale sector operates are such that the entrepreneur will have to gear up for a survival strategy, and look for applied solutions. That's where this book may come in handy. Ground realities notwithstanding, it has to be seen what happens when the rubber meets the road.